November 16th, 2011
Captain Paul Cuffe made waves in business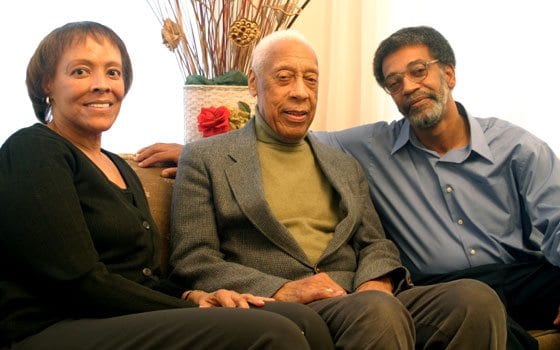 Paul Cuffe was born in 1759 and passed away in 1817, but his family tree extends to this very day. Pictured here are Cuffe descendents Charles "Burt" Walker (center) and his children, Alison Walker and Leighton Walker.
It was not an easy start for Paul Cuffe.
He was born in 1759 on Cuttyhunk Island, the son of Coffe Slocum, an African slave, and Ruth Moses, a Wampanoag Native American woman.
The family lived as conspicuous property-owning minorities on land that was difficult to farm. Their lives had all of the predictable obstacles and setbacks of a racial group thought not to be a part of the new nation that would emerge from the American Revolution.
In 1775, at the age of 16, Cuffe took his first job as a common seaman aboard a ship bound for the Gulf of Mexico. During his travels, Cuffe used every opportunity to advance himself with skills and education, but he also faced dangers made worse by the Revolution. In fact, on one trip the British seized Cuffe's ship and he was imprisoned in New York along with other crew members.
After being released, he returned to his family's farm in Westport. Life at sea made Cuffe realize that the trees on the family property could be used as lumber to build a boat large enough to haul cargo. The chance of making a living at sea was good, but so was the chance of running into pirates and thieves.
Cuffe and his brother encountered numerous robberies while sailing between Westport, New Bedford and Nantucket. Some of these "hold-ups" were worse than others, costing Cuffe cargo, money and occasionally even the shirt off his back.
Cuffe bounced back from these life-threatening experiences by building an even larger boat. This time, he was in the right place at the right time. The booming codfish industry in southern New England both provided Cuffe with a good living and enabled him to expand his cargo business.
Between 1780 and 1806, Cuffe owned and built ships ranging from 12 to 268 tons, ships that could easily compete in the cargo business along America's East Coast. Cuffe never lost his interest in whaling, but in typical Cuffe fashion, he sailed beyond his early expeditions off Nantucket to better whaling prospects off the coast of Newfoundland. Maritime records suggest that Cuffe did well as a whaler, returning home with large inventories of sperm oil, whalebone and whale teeth.
With this success, Cuffe was ready to take a wife and start a family. He married Alice Pequit, a local woman of the same Wampanoag heritage as his mother. In 1799, 63 years before the 13th Amendment to the U.S. Constitution abolished slavery in America, the Cuffes purchased 140 acres of waterfront property for $3,500. Their Westport homestead included a well-appointed farm, a wharf and a storehouse; it was, in fact, a complex that accommodated a cargo business, shipbuilding and a place to bring up a family of eight.
Cuffe was a competitor who was open to the challenges of new experiences and relationships. One lasting relationship he established was with William Rotch, perhaps the most powerful and wealthiest resident of the New Bedford area. In addition to being an astute businessman, Rotch was a devout Quaker whose abolitionist views probably encouraged him to befriend a successful African American such as Cuffe.
Both men had visions that enabled them to succeed in whaling, shipbuilding and cargo. Considering their mutual interests, their relationship was not out of the ordinary. What was exceptional, however, was for Rotch to introduce Cuffe to fellow Quakers who happened to be successful businessmen. Rarely were the most enterprising African Americans invited into the inner circles of finance and commerce. These contacts expanded Cuffe's business, and made him more financially successful than he had ever anticipated.
By 1806, Cuffe's fleet included 10 vessels and a variety of small boats. Cuffe was doing business in the ports of Philadelphia, Boston, New York City, Wilmington, Baltimore, Norfolk, Va., Savannah, Ga. and the West Indies.
Outside of his business pursuits, Cuffe's memoirs and letters offer an insight into who he was and how he coped with everyday circumstances. In order to survive, let alone prosper, Cuffe had to maneuver around the racial barriers of postcolonial Massachusetts. Incidents when the Cuffes entertained Rotch and British friends in their Westport home, but declined to mix the races at their dinner tables, were examples of the difficulties that blacks and whites sometimes had in relating to one another. In this case, the races sat separately to eliminate even the slightest chance of offending anyone.
By today's politically correct standards, this odd concession, made in one's own home, would be considered hopelessly accommodating. Why would a financially successful man such as Cuffe resort to such concessions? After all, Cuffe had the will to maintain a fleet of ships that was almost exclusively crewed and captained by blacks and Native Americans.
The fact is, there were countless incidents where Cuffe had to diplomatically deal with race. He was rarely confrontational, though he was candid about his natural and civil rights. Remembering that Cuffe was first and foremost an ambitious merchant and sea captain who would think twice before putting a financial opportunity at risk, it is easier to understand his diplomacy.
But diplomacy is one thing; fairness is another. As one of Westport's wealthiest men, it was quite natural for the state to levy taxes against him. It was also natural for the state at the time to prohibit blacks — even taxpaying blacks — from voting. As Cuffe and his brother saw it, the issue for blacks was reminiscent of the "no taxation without representation" mantra used by colonists during the American Revolution.
In 1780, the Cuffes and five other freed black men filed a petition with the Massachusetts Legislature, arguing in part that they were "not allowed the Privilege of freemen of the State having no vote or Influence in the Election of those that Tax us yet many of our Colour (as is well known) have cheerfully Entered the field of battle in the defence of the Common Cause."
The Cuffes lost that battle and were forced to pay their back taxes. But three years later, a state court ruled that male taxpayers, both black and white, had the right to vote.
But Cuffe was more than a businessman seeking new markets and publicity. He had a soul; a soul that ached for other blacks still caught in slavery.
On more than one occasion, Cuffe expresses his frustration when his ship docked in ports where slavery was considered part of the natural order. He also had misgivings about taking on cargo that was obviously the product of slave labor. And his rage is almost tearful when he encounters renegade slave ships waiting for their human cargo off the coast of Africa.
Nevertheless, Cuffe channeled these emotions and experiences into something tangible. Probably out of exasperation, he endorsed a back-to-Africa movement as one way to resolve America's problems with race and slavery. Cuffe became the most significant African American in the movement. His role was controversial and thought to be too close to pro-slavery supporters, who also endorsed the movement to rid America of troublemaking free blacks, like Cuffe himself.
In spite of opposition and controversy, Cuffe used his ships to sail blacks to Sierra Leone. He helped with supplies for resettlement, and he negotiated proposals for self-governance.
Two of Cuffe's ships, the Traveller and the Alpha, were 90 to 91 feet in length, and ranged from 109 to 268 tons. Cuffe's fleet carried no slaves; nor was his fleet in search of cheap foodstuffs such as "breadfruits" to be shipped and fed to slaves in Jamaica. In fact, in addition to helping free blacks resettle in Africa, Cuffe envisioned the possibilities of building a whaling company that would bring trade and commerce to African countries. His vision was to bring these countries into the maritime marketplace, and make them competitive.
That is not to say that Cuffe didn't have stern opinions regarding appropriate behavior. Using no uncertain terms, he warned his crew about gambling, womanizing and liquor, which he referred to as the "pernicious spirit." In spite of how notoriously immoral maritime life was rumored to be, such behavior was intolerable on a Cuffe ship and was probably grounds for being punished or even sent ashore.
Cuffe's life is also a window to what was going on in black America during the late 1780s.
His correspondence provides a rare glance into the social circles of late 18th century black America, a glance that confirms that living as a black American was not always limited to destitution and despair.
Cuffe frequently corresponded with James Forten, a well-to-do Philadelphian who owned one of the most successful sail making companies in the city and, like Cuffe, was an African American, an abolitionist and a Quaker. Cuffe's friendship with people like the Fortens sheds light on the inner circles of an elite entrepreneurial class that was anxious to help their own.
Cuffe died at his Westport residence in 1817, the end of a battle with a prolonged illness that gave his family false hopes for recovery. As his condition worsened, family members wrote revealing letters to relatives and friends detailing Cuffe's remarkable reconciliation and peace of mind. In his last hours, he refused nourishment and medicine, and quietly slipped away. His immediate family and scores of close friends attended Cuffe's funeral. He was buried on the grounds of Westport's Quaker Meetinghouse Home.