December 6th, 2011
An appreciation for comedian Patrice O'Neal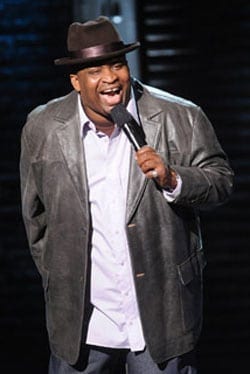 Patrice O'Neal, 41, performs in his last Comedy Central special "Elephant in the Room." He died Nov. 28 from complications of a stroke he suffered in October.
Patrice Lumumba Malcolm O'Neal, or "Bruiser," as many of his close friends called him, is best known for his September 2011 appearance on the "Comedy Central Roast of Charlie Sheen," and as a regular drop-in guest on the nationally syndicated "Opie and Andy Radio Show."
After a long battle with his weight and diabetes, in October he suffered a severe stroke that hospitalized him. He passed away on Tuesday morning, Nov. 29, 2011. He was 41 years old.
When many think of comedians with Boston ties, names like Jay Leno, Conan O'Brien, Louis CK,  Dane Cook, Joe Wong, and of course, Boston's Bad Boy of Comedy Jonathan Gates come to mind. Though an unfamiliar name to many, O'Neal was one of the most talented, insightful, influential and brutally yet hysterically honest comedians of all time.
Where was he from? Roxbury, Massachusetts.
When asked for his thoughts on O'Neal, national headliner, 2009 NYC Underground Comedy Festival's winner and Boston native Lamont Price simply stated, "The funniest cat to ever come out of Boston. PERIOD!"
A former standout West Roxbury High School football player, who ended his career with three  varsity letters — and a state championship his senior year — O'Neal attended Northeastern University on a public housing grant, majoring in performing arts. He began his comedy at an open mic at Estelle's Bar and Grill in October of 1992.
"The first place I met Patrice was at Estelle's." Both of us were just getting started (in our comedy careers)" shared Chris Tabb, a Boston-based comedian who has toured with Monique, and is the host of WBIN-TV's "The Chris Tabb Show."
"He was doing a hilarious bit about the trials, tribulations and struggles on the day in the life of a mother roach, Tabb said. "At the end of the story he said he stepped on the mother roach and killed her. At 6'5" and 300-plus pounds, you would have expected this dude to be talking about throwing people around. But even early in his career that's what set him apart (from other comedians), not going for the obvious."
Former Boston City Councilor and owner of Nick's Comedy Stop John Tobin recalls giving O'Neal a ride home from a weekend gig in his compact car during a Boston snow storm.
"(On the second night) I borrowed my parent's mini-van so that he would be more comfortable." Tobin laughs, "… the entire ride home Patrice repeats, 'I can't believe you got a van to pick me up. A VAN?' We laughed the entire ride home."
In six years O'Neal had established himself as a headliner in the rich Boston comedy scene, and then he moved to New York to further his career. He quickly rose in the NYC comedy ranks, becoming a regular at The Comedy Cellar.
His first television appearance was on "The Apollo Comedy Hour." He also has appeared on "Showtime at the Apollo," "Tough Crowd with Colin Quinn," "Comedy Central Presents Patrice O'Neal," and was a writer for World Wrestling Entertainment (WWE).
O'Neal TV credits include "Arrested Development," "Chappelle Show" and "The Office." He also co-starred in the Comedy Central animated program "Shorties Watching Shorties." Not just limited to TV, O'Neal was seen in movies such as "The 25th Hour" directed by Spike Lee, "In the Cut" with Meg Ryan, and "Head of State" with Chris Rock.
"What made Richard Pryor the best comedian of all time?" Lamont Price said. "Not just that he was hilarious, it's got to be deeper than that. (It is) the fact that Richard Pryor is the most honest comic you'll ever see. He opened himself up to you."
Price goes on to say, "Patrice embodied that. He opened himself up to you. He didn't lie to you. He didn't sugar coat anything. That dude was honest to a fault."
O'Neal is survived by his wife, Vondecarlo Brown O'Neal, from the fox TV reality show "Temptation Island"; mother, Georgia; stepdaughter, Aymilyon; and sister, Zinder
The fact that O'Neal died at such a young age due to complications from a stroke scares me. His stroke may have been related to his bout with diabetes — one of the number one killers of African Americans.
But one of the hardest things to accept was realizing that many did not know who this man was, the accomplishments and contributions that he made, or that he was from Boston.
I have worked with O'Neal several times, and watched all of his comedy special. He inspires me to be a better and more honest comedian and person. On Sunday, Dec. 11, I will be hosting a Patrice O'Neal tribute show at THE FUN ROOM located at Biff's Lounge, inside of Prince Hall, 18 Washington St. Roxbury, Mass. at 8:30 p.m.
Please eat right, exercise, support local comedians and tell someone you love them.
Corey Manning is a stand-up comedian by night, a superhero by day and a freelance writer when he has the time. Check him out every Sunday hosting The Fun Comedy Showcase at Prince Hall in Roxbury. Follow @coreymanning on twitter.