February 28th, 2014
Emily Dickinson's poems reflect specter of slavery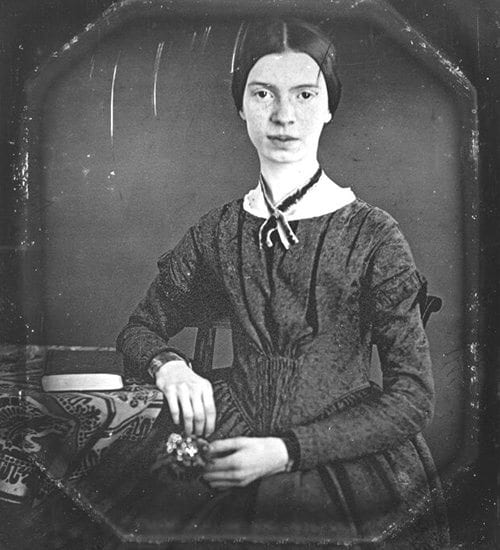 Emily Dickinson
The recent furor about human trafficking shows a curious disconnect with its long history that profoundly changed American lives and culture. Solomon Northup's book, and Steve McQueen's recent film, "Twelve Years a Slave" renders gruesome details of that long shadow when slave trafficking was legal. Emily Dickinson — generally thought of as outside the social tide — was 22 when Northup's book appeared. Human trafficking and slavery were so pervasive to the imagination that it became the metaphorical, or actual, subject of many of Emily Dickinson's poems — proof that those distant from the slave states were changed by a system that knew no borders.
Upstate New Yorker Northup's experience of being tricked and sold into slavery was not an isolated event. In the previous year, in Amherst, there was a highly publicized case of 11-year-old Angeline Palmer nearly sold into bondage. Dickinson was a girl of 9 and this might have been her earliest lesson about human trafficking; her lawyer father represented three African-American men who staged a daring stagecoach rescue of Angeline. The child worked as a servant for a white family who, while on a Georgia vacation, planned to sell her. Angeline overheard the plot and told her family. Angeline's brother, with two others, absconded with the child to a safe house near the Vermont border. Those familiar with the story of Patsey — a doubly-trafficked slave held captive with Northup — can appreciate why Angeline's rescuers refused, under oath, to reveal her whereabouts. For this offense the men were held in contempt and thrown in jail.
A dozen years later, 21-year-old Dickinson wrote her brother a newsy letter mentioning that their stableman, Wells Newport, had "disappeared." Wells was the great-grandson of a former slave who, in the 18th century, successfully sued for his freedom in a Springfield court. But in March 1852 Emily didn't sound alarmed that Wells had "disappeared" even though this occurred two years after the Fugitive Slave Act was made law. The act unleashed a reign of terror for anyone of African descent (whether or not a family, like the Newports, had lived freely in Massachusetts for 100 years) because it gave slave agents an open hunting license to travel the free states to re-capture "escaped property." They didn't want to go home empty-handed so cases of "misidentification" or crimes of opportunity prevailed.
Slavery's existence operated as an ever-present threat to free blacks and as one of opportunity for whites. If Dickinson's stableman had gotten into an argument with a local white man, the ability to relocate to another town or state, while feelings were high, was essential. It's why there were safe houses; they served more purposed than aiding escaped slaves bound for Canada. This may account for why small 19th century Berkshire towns had disproportionately high numbers of African-Americans. Many relocated from New York; a state so dependent on the southern slave economy that it was a hostile to them (contrary to bucolic scenes of Northup's Saratoga life in McQueen's film).
We don't know if Wells Newport's disappearance was another of the poet's brush with human trafficking. There's a gap in Newport's life story but he eventually migrated back to Amherst and died there. His family's legacy is memorialized by Newport House at Amherst College, named for several generations who served as trainers for collegian athletes.
As a child, Dickinson might've been shocked about what was planned for Angeline Palmer but, at 21, she is offhand about her stableman's unexplained departure. It took another dozen years for this poet to register the pervasive injustice of legalized human trafficking, north and south. In this 1863 poem, this northern white writer may be acknowledging parallels for household servants, free and enslaved, and that escape was the correct act to dismantle a system that Dickinson, too, depended on for her vocation:
The Lamp burns sure – within –
'Tho' Serfs – supply the Oil –
It matters not the busy Wick –
At her phosphoric toil!
The Slave – forgets – to fill –
The Lamp – burns golden – on –
Unconscious that the oil is out –
As that the Slave – is gone.