June 18th, 2014
British Genealogist in Roxbury investigates family history in 18th century Virginia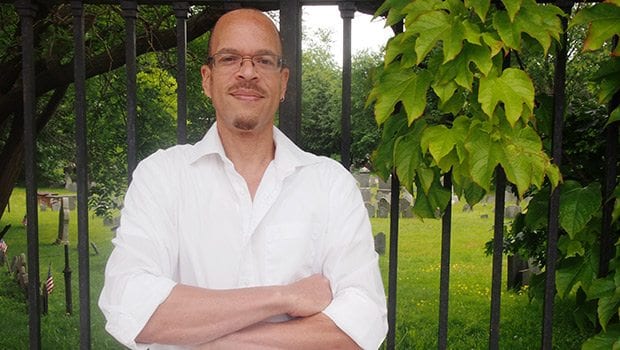 London-born Brian Sheffey moved to Roxbury last year to research Sheffey family history. The family name came from French/German-descended slave owners who settled in Virginia in the 18th century.
"Roots" author Alex Haley's search for his progenitors took him across the Atlantic Ocean to the west coast of Africa, where his ancestors were plucked away by slave traders.
British genealogist Brian Sheffey's search for his ancestors has also involved a trans-Atlantic journey, albeit in the opposite direction. And in his search to uncover his family's roots in Virginia, he discovered Sheffey ancestors, free and enslaved, who fought in the American Revolution and War of 1812, survived the horrors of slavery and fought against slavery.
Armed with a well-developed family tree and scores of interesting anecdotes and histories, Sheffey, now living in Roxbury, is shopping his story to several television networks and contemplating writing a book.
Back in London, Sheffey made his living as a record label owner, digital communications director and part-time university lecturer in social media and social medial marketing. In Roxbury, Sheffey has gone full-time with exploring the history of his family, which has roots in North Africa, Central Asia and Germany.
Sheffey grew up in London, the child of a black mother and father, both of whom had families that had lived in England for more than 100 years.
"We kind of knew our family had roots in Virginia," he said. "We didn't know how far back."
Following his curiosity, Sheffey began researching the family name in Virginia. Working in his favor, the name — an anglicized version of the German Scheffe — was uncommon enough that all Sheffeys in the United States are descended from the same family. Researching genealogical books, birth records and even digitized archived slave narratives, Sheffey was able to piece together a family tree and track down family members, black and white, descended from Johan Adam Scheffe, who immigrated to America in the 1730s.
"He came from a region of France called Palatinate," Sheffey says. "He was a shoemaker. He probably had no idea his family would become what it did."
Johan Scheffe's family in the United States acquired land in Virginia and began farming and buying enslaved Africans to work their lands. Their small plantations, located in the southwest corner of the state, each employed 10 to 20 slaves who also bore the surname Sheffey.
While Brian's ancestor Jacob Sheffey left the newly formed United States in 1800 with slave owner John Sheffey, his relatives in Virginia continued to lead noteworthy lives.
Think Solomon Northup encountered challenges in his 12 years as a slave? How about the 50 years endured by Rachel Findlay, the granddaughter of an illegally-enslaved Chocktow Indian, before she was freed in 1820. Her story, detailed in 40 pages of 19th century court records from a suit she filed against her owner, is now part of the Sheffey family history.
While some of Sheffey's free black ancestors fought in black regiments in the Revolutionary War and War of 1812, one relative, Daniel Henry Sheffey, was credited with saving Wythville, Virginia from Union soldiers.
"He went around putting out fires in the town," Brian Sheffey said. "It was only because a local historian wrote about it that we found out about this."
As Brian began uncovering anecdotes of Sheffey family history, he launched a blog. White and black Sheffeys, who connected via Facebook two years ago, began adding their own histories to the blog.
Brian Sheffey estimates the number of Sheffeys at the "high hundreds."
"It's a very prolific family, both blacks and whites," he said.
Brian has been living in Roxbury with a Sheffey relative since he moved here in November to continue his research. He says he has found the segregated housing and social patterns in U.S. cities surprising.
"In England, cities are divided by income," said Sheffey, who describes the family he grew up in as middle class. "In England, every street I lived on was like a little United Nations."
Ultimately, he says, he would like his work to inform the way blacks look at themselves.
"One of the outcomes I'm hoping to get is giving people a sense of identity," he said. "When people say, 'African American' they think more Africa than America. But we go back here a long, long time. This has given me a new sense of my roots and culture."