December 9th, 2015
Dashon Burton, Jeanine De Bique break down barriers to classical music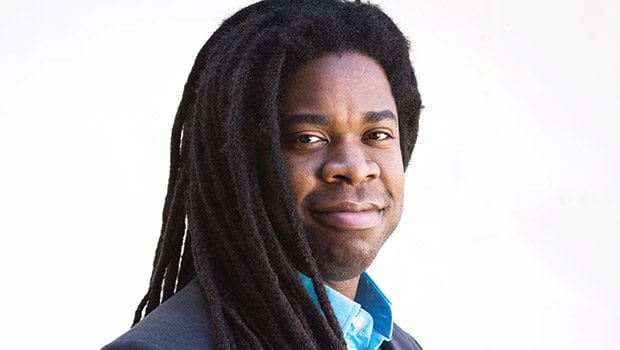 Bass-baritone and Grammy winner Dashon Burton performs for a second year in Boston Baroque's Handel's "Messiah."
"What we have to do in every form of art is really break down the barriers in classical or operatic. In the end, it's just music and we want everyone to be just as excited about it. I really do believe that by my going to a school and showing children or even college students what it means to be a musician — how this art form is still thriving — I believe by leading through example is the best way to get people excited about classical music," says classical singer Dashon Burton by phone to the Banner.
The Bronx native began singing at the age of 13 in his school's choir at the suggestion of a friend. His friend told him that the choir needed more bass. "I had no clue what he was talking about but he said that 'it would be a lot of fun and I would get to spend some time with some friends.' I decided to give it a go."
By the time he was a senior in high school, Burton knew he would be singing professionally. Soon after, he began studying at Case Western Reserve University and later ended up graduating from the Oberlin Conservatory of Music in 2005. Since then, Burton has worked with numerous artists and ensembles from across the U.S. as well as across the globe, including Cameroon, Canada, Italy, and Germany.
He is a founding member of the 2013 Grammy Award-winning ensemble Roomful of Teeth. A soloist who works year round, Burton also teaches. "I go around the country and will stop into high schools or colleges. I really want to foster the next generation of people to really appreciate this music."
In 2014, the bass-baritone singer performed for the first time with Boston Baroque in Handel's "Messiah." He returns for a second year on Friday and Saturday as a guest soloist with the nationally-renowned orchestra. Under the direction of Martin Pearlman, the Boston Baroque presents its 34th annual performance of Handel's "Messiah" at The New England Conservatory of Music's Jordan Hall.
Universal appeal
Burton is excited to be back performing the musical composition once again. "The story is such a universal one. It has nothing to do with your religion or what you believe," says the singer. "It's a wonderful testament to humanity. People really respond so well and it's such a thrilling piece."
Composed in 1741 by George Frideric Handel, the "Messiah" originally was written to commemorate Easter. It premiered in April 1742 in Dublin, Ireland and is now part of the holiday season where the composition is performed universally around the world by choirs and orchestras alike.
Another guest soloist scheduled to perform with Boston Baroque this weekend is soprano Jeanine De Bique, who is making her debut with the famed orchestra. Speaking by phone from Barbados over the Thanksgiving holiday, De Bique also feels that Handel's "Messiah" is special.
"It's the one piece that a community knows even if they don't know opera or classical music well, everybody knows the chorus. And, so I think it's one piece that brings the community together. It's such a sacred time of the year regardless if you're one denomination or not, the music itself is so global," says the singer.
The Trinidad and Tobago-born soprano, who has been singing since she was a child, earned her bachelor's and master's degrees and professional studies certificate at the Manhattan School of Music. Surrounded by music and dance growing up, she was always involved in the choir and was always encouraged to enter local competitions. It was a natural progression for De Bique to pursue her education studies in music, and eventually becoming a classically-trained singer.
De Bique has performed as Adele in the operetta "Die Fledermaus," in the title role in Handel's "Semele," as Lauretta in Giacomo Puccini's "Gianni Schicchi," and in Leonard Bernstein's one-act opera "Trouble in Tahiti." During her 2013-2014 season, she debuted as Juliette in "Romeo et Juliette" with the St. Petersburg Opera Company in Florida, and as Clara in "Porgy and Bess" with the Royal Danish Opera House in Copenhagen.
If You Go
Boston Baroque presents Handel's Messiah on Friday, December 11 and Saturday, December 12 at 7:30 PM at NEC's Jordan Hall, located at 30 Gainsborough Street in Boston. NEC's Jordan Hall is wheelchair accessible. Tickets: $30 – $90; www.bostonbaroque.org or by calling: 617-987-8600. Discounted tickets are available beginning at 6:00 PM on the day of the concert at the box office: student tickets are $10.00, for those under 30 years old, tickets are $30.00 and senior tickets are $20.00.
Youth focus
Like Burton, De Bique is a big proponent of exposing children to classical music. Over the Thanksgiving holiday she brought down the World Doctors Orchestra to perform and collaborate with the youth orchestra in Barbados. Through the organization the children met performers from Germany, Italy, England and the United States.
The singer, who didn't experience her first opera until the age of 21, says "what I love about the youth orchestra they're performing not straight up classical music but they're performing "Harry Potter," "Lord of the Rings," 007, the soundtracks with orchestra. It's such a fantastic way of getting the kids to be involved in what's happening now, but the music of those particular movies are orchestrated classically first before anything else."
De Bique realizes that there is a stigma associated with classical music. It's often perceived as "high end, untouchable, unreachable, and foreign." However to De Bique, classical music is simply music. "I don't make a differentiation on that. It was something that I learned," she says.
And so for her, the opportunity for the children to be exposed to classical music outweighs any challenges she may face. De Bique's hopes for the children in working with the World Doctors Orchestra are for them "to ask questions, to have one-on-one time, for them to understand music, of how to play, and to fall in love with that."