June 8th, 2016
Not the deal she thought she signed
Seller beware: Real estate offer backfires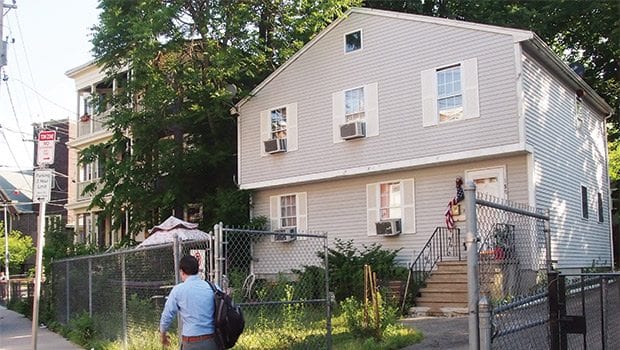 Jamaica Plain homeowner Migdalia Mazziotta may lose her Boylston Street single-family home to a real estate developer.
Last year, when Migdalia Mazziotta signed an offer from a developer to buy her Jamaica Plain single-family home, the deal her real estate broker put together seemed like a good one.
The sale would provide leverage to buy a larger home for her growing household. But now, facing a lawsuit in which the developer is seeking $400,000 and her Boylston Street home, Mazziotta regrets putting her signature on the offer letter.
After she signed it, her housing sale plans went awry.
Mazziotta has lived in her house in Egleston Square for nearly two decades. She had thought she made it clear to her real estate agent, who drew up the buyer's offer letter, that she only wanted to sell so she could purchase a larger house that accommodated more family members, she told the Banner. But when her attempts to acquire a new place fell through, she experienced a shock: The offer letter she signed only stipulated her intention to use the sale to purchase a new property but did not, as she had assumed, make the sale of her residence contingent on having a new one.
The buyer, a local developer, plans to tear down her home and redevelop the property into condos, according to Mazziotta. He has displayed little willingness to allow Mazziotta and her family's predicament to halt to what could be a profitable deal for him in Jamaica Plain's hot housing market.
Mazziotta is not the only longtime Jamaica Plain homeowner being sued after signing what the homeowner regarded as a misleading sales offer, said City Life/Vida Urbana organizer María Christina Blanco, who brought Mazziotta's case to the Banner. CLVU is advocating on behalf of Mazziotta and one other homeowner in such a predicament.
At a glance
Resources:
There are some resources provided by the state and local government provides that may help those unable to afford lawyers or who believe themselves victims of a scam.
MassLegalServices.org allows users to search for free or low-cost legal aid programs.
Those encountering issues with foreclosure-related scams, a more commonly reported housing predicament, also may find resources at the state's page of Resources for Distressed Homeowners or for Foreclosure Related-Scams at http://tinyurl.com/jpedx8k and http://tinyurl.com/zuojc2q
Consumers with complaints on topics including mortgage servicing and home improvement contracts may contact the Attorney General's Office consumer specialists at 617-727-8400 with questions, complaints, or concerns.
Boston renters encountering housing issues can find resources at http://dnd.cityofboston.gov/#page/BostonRentalHousingCenter
Offer letters
Mazziotta may have fallen into a legal bind.
According to attorney Richard D. Vetstein, writing on The Massachusetts Real Estate Law blog, even though they are signed before purchase and sale agreements, offer letters are binding, enforceable contracts.
"Many sellers (and their brokers) are under the misconception that the offer to purchase is merely a formality, and that a binding contract is formed only when the parties sign the more extensive purchase and sale agreement," Vetstein wrote.
Mazziotta says she is not the only case she knows of where a developer is taking an aggressive approach to enforcing an offer letter, despite the seller's inability to locate an alternate place to live. She said the negotiations were misleading.
In an open letter sent to the developer, Mazziotta stated, "I am aware that over the past decade, minority homeowners like me were targeted by the real estate industry for predatory lending. Now I feel we are being targeted by developers who want to acquire our properties. I was misled in the process of negotiations with you over the sale of my home."
In a second case, a long-time Jamaica Plain homeowner was approached with an offer to sell her home. She was interested in selling only so long as she could find a new place that suited both her and her family's needs, including access to medical services and education, the homeowner stated later in an open letter to the would-be buyer, Fred Starikov, managing partner at real estate brokerage group City Realty Group.
According to CLVU's María Christina Blanco, the homeowner was not properly advised on how to insert a clear contingency clause into the offer letter. Only after signing it did she learn she was unable to secure a suitable new home. Starikov is now suing the homeowner to complete the sale.
Plans unravel
Mazziotta has ten family members moving to the country. With no space for them to live in her current house, she decided last year to sell and buy a new one in the area, somewhere nearby so her son could continue attending his school and she could remain part of her longtime community. Mazziotta then contacted real estate agency Otero and Pearl Associates, and soon a buyer was lined up: Gary Martell of Real Estate Equity Consulting, a developer who previously has built condos in the area, Mazziota said. The real estate agents wrote up an offer letter, and in early November 2015, Mazziotta signed.
Then her plans fell apart. After approaching a bank, Mazziotta discovered her credit score was low enough that no one was willing to give her a home loan.
"There's no way you can get a house right now," the banks told her, she recounted to the Banner.
With prospective home for her and the family members currently living with her, let alone those who would be arriving, Mazziotta informed Martell that she would not be able to sell the house after all. She would not be signing the purchase and sales agreement, she said.
Martell is calling not only for Mazziotta to go through with signing the purchase and sales, but also to pay $400,000 in damages due to lost profit, she said. Her case is currently at the Suffolk Superior Court.
Regardless of who the court decides has stronger legal standing, Mazziotta makes the case that her predicament is not right.
"The developer doesn't care how he gets the property," Mazziotta said. "He's aware that I do not have a place to go."
Currently living with Mazziotta are her siblings, ten-year-old son and 76-year-old mother, who has Alzheimer's.
Mazziota was served a "lis pendens," which officially states that the property's title is in question. The effect often is to discourage others from seeking to buy or offer loans against the property.
Mazziotta says it essentially prevents her from solving her current situation. Any investments she makes to the property — for instance, building bedrooms for the additional family members now due to arrive in a few weeks — would be lost if she loses the suit.
She could be in limbo for years. The case's civil tracking order schedules it to be resolved and judgment issued on it by mid-January 2019.
"You're not supposed to be sentenced until proven guilty," she said. "He's already a winner because I can do nothing with my property."