July 28th, 2016
Dorchester man puts neighbors to work
Sheet metal worker teaches locals how to perform restoration work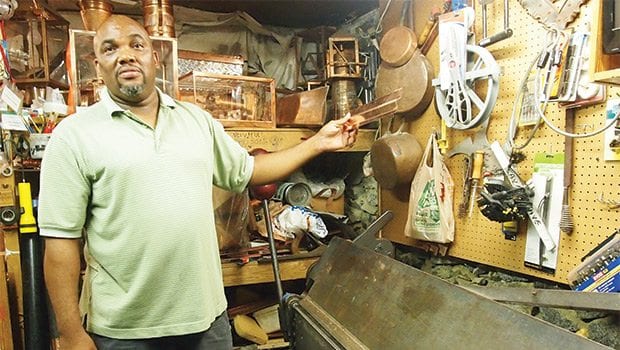 T. Michael Thomas demonstrates the use of a metal brake, using a sheet of copper in his basement workshop.
Like many blacks in the building trades, T. Michael Thomas struggled to balance his love for his work and his antipathy for his union. As one of a handful of non-white members of the Sheet Metal Workers Local 17, Thomas found that he was often passed over for jobs in favor of less-qualified whites.
"I saw the disparities in the hiring," he said. "You could be better than the best. But at the end of the day, you would still be passed over."
Born into a family of welders in Trinidad, Thomas left the union and hung out his own shingle, specializing in fabrication and installation of copper gutters, skylights and roofs. As work came in, he began taking in apprentices from his Dorchester community, teaching them the intricacies of metal work.
Now, at any given time, Thomas works with as many as five apprentices, most often installing roofs and other copper details on homes in Milton, Brookline and other Boston suburbs. In his apartment on the third floor of his Dorchester triple decker, work tables covered in sheets of copper occupy most of what was once his dining room and now serves as a classroom for his apprentices.
In his basement, the tools of the trade are affixed to hooks on the walls, hang from floor joists and occupy crowded shelves. Work benches are strewn with drain spouts and other custom-fabricated pieces. A five-foot-long metal bending machine called a brake occupies one corner of the basement. A metal cutting machine occupies another.
While many in his family have worked as welders, including his father, Thomas studied welding with teachers John Woods and Al Conte at the Humphrey Center, now Madison Park Vocational Technical High School.
"I spent a lot of time working closely with the teachers there," he said. "They said, 'If you stick with us, we'll get you in the union.'"
Union experience
After graduation, Thomas entered the apprenticeship program at Local 17. As the only black apprentice, he stood out.
"The other students saw me the first day and said, 'Who do you know?'" he said. "I stayed the course."
During his ten years in Local 17, Thomas was able to work on historical preservation jobs, including the State House and Harvard Divinity School. For the latter, Thomas custom-fabricated downspouts and hand-cut designs in the copper work to match the existing hardware. The work was lucrative, paying $40 an hour.
Because many buildings in and around Boston are designated as historical landmarks, repair work to the copper gutters, flashing and roofs must match the pre-existing work.
"The things we're replicating were created sometimes two or three hundred years ago," he said. "All done by hand."
When work on the Big Dig was progressing, the nearly all-white workforce showed Thomas just how few blacks had been able to find work in the building trades unions.
"I saw billions being spent on the Big Dig, and there weren't any people of color on the job," he said. "When you'd ask why, they kept saying that people just don't have the skills."
Thomas says he's trained more than 20 people to work in sheet metal. Some have joined Local 17 and found work through the union. Others have gone into business for themselves.
"The last group I trained — four of them — are working together in Florida," he said.
Thomas said many of those he has worked with have criminal records that would ordinarily make it difficult for them to find work. The skill set he's teaching them makes them invaluable.
"I make recommendations and place them in companies that need their work," he said.