September 7th, 2016
Hacking the opportunity gap: Resilient Coders and true grit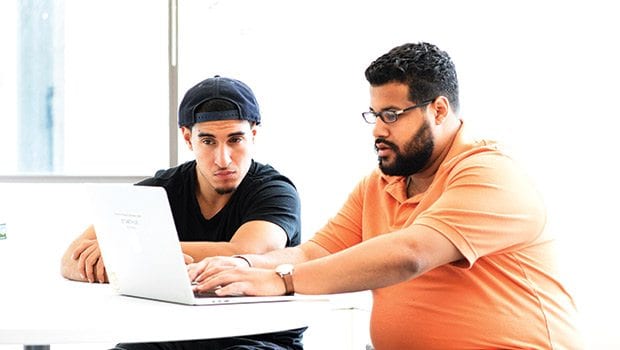 Bootcamp hacker Joey Rivera, left, works with Bootcamp lead instructor Leon Noel.​
"It's a true meritocracy. If you know how to code, you get the job, right? If you know how to code, Bam! You're in my company."
That's what Leon Noel, tech pro and lead instructor for Resilient Coders Bootcamp, told the group of roughly a dozen young adults recently at the Roxbury Innovation Center in the Bolling Municipal Building. What he didn't have to say on this sweltering August morning was a fact well known to them: Meritocracy in coding exists in an industry dominated by white men.
Resilient Coders is a Boston-based nonprofit that seeks to break that mold by adding gender, color and class to the mix. Through a variety of programs, RC builds not only coding competence, but personal confidence and character. In doing so, it helps opens up the talent pipeline to Boston's rapidly growing tech industry. "Hack the Opportunity Gap" is the RC motto.
The Bootcamp cohort — hand-picked by Resilient Coders partners and David Delmar, its energetic founder who left a job at PayPal to launch the idea — had just participated in a detailed two-hour session on CSS taught by Alec Ortega, a tech professional from HubSpot. CSS is one of several software languages taught during the seven and one-half week program that met daily through August 27. Seventeen millennials — mostly African American men, with two Latina women and two white men — received stipends and cash incentives to ready themselves for tech jobs. The training included shaping their life experience into tangible assets. One example: The CSS session was followed by a session on using LinkedIn as a platform for showcasing their interests and experience as well as marketing themselves as professionals and leaders.
Resilient Coders takes an expansive approach to investing in human capital because, in the tech workplace, character and culture — along with self-direction, discipline and presentation — count almost as much as coding competence.
"The only other thing I look at is, 'Do I wanna work with you over the next two years?'" Noel continued. "I have to make sure if I sit next to you nine hours a day, that there's some common ground, that you're a normal human being."
Breaking through homogeneity
Diversity and inclusion in the high-tech industry are sorely lacking. According to a report issued last May by the U.S. Equal Opportunity Employment Commission, minorities and women are underrepresented in the industry owing to a number of factors, including:
Pipeline problems such as inadequate education and exposure to tech careers, the "digital divide" between those with and without computers and internet access, and recruitment practices that fail to look beyond a limited group of places;
Promotion problems, often related to unconscious bias that produces disparate pay for women and minorities and benefits that do not support diverse workforce needs; and
Portability problems, which limit the mobility of skilled IT professionals to work with minority and women-owned companies. Despite the fact that there are half a million unfilled jobs across all sectors of the economy, many smaller businesses, particularly those in underrepresented communities, do not have the capacity to do business online.
That's why an ecosystem now is emerging of coalitions and groups dedicated to increasing tech diversity on all these fronts. These efforts range from the White House's new multisector TechHire initiative, to industry- and company-specific programs, to local and regional groups.
Resilient Coders is part of what's called a "code literacy movement." Founded 18 months ago as a nonprofit organization, RC's mission is to prepare and place members of Boston's underserved communities in good jobs in the region's thriving tech industry. RC relies on a network of tech entrepreneurs, engineers and hiring partners to recruit, train and place young people. Last November, Boston Mayor Marty Walsh announced that the city's Operation Exit reentry program was expanding to partner with Resilient Coders.
The Bootcamp curriculum features project-based learning, with sessions on technology fundamentals, professional development and leadership development within a wider social context so participants might function as change agents. Bootcamp graduates receive certificates and badges demonstrating their mastery of software and specific work competencies.
In addition to the Bootcamp, RC runs periodic "hackathons" and, last spring, a semester-long program for high school students. Delmar told Banner Biz that RC continues to seek the most effective mix of program and process.
RC also operates Resilient Lab, billed as "a digital design and development agency with a social mission." Some Bootcamp graduates will move into the Resilient Lab lane to launch their careers through client work; others are hired directly by local firms. Each Bootcamp hacker has a GitHub account to showcase his or her work. "GitHub is like LinkedIn for coders," said Delmar.
Hacking the future
Several Bootcamp participants told Banner Biz that the experience is a welcome pivot from temp jobs in retail, office support, construction — and even time in the criminal justice system. For some, it's a way of building upon years of side interests in computers, engineering, art and design. For others, it's an upgrade to earlier HTML code training that now is outdated. For all, it's a process of demystifying computer science and making a leap into a new professional world where you need to keep learning — and, well, be resilient — to stay in the game.
"Finally, after ten, twelve years of lugging stuff up ladders, I'd like to get into tech and web development," said Bootcamper Matt Hoppe. "I'd like to do this professionally. I love doing it on the side, which I've been doing for years. But now I want to do it, you know … I want this to be my career."