December 14th, 2016
In the mix
Soirée 5 : WE ARE the Future
Soirée 5 hosts D. Ruff and Twist ID.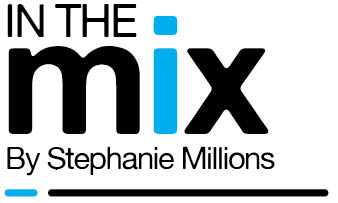 Soirée 5 : WE ARE the Future
Cool afternoons and a live show can be just the thing you need to set the mood for the weekend. Nothing can compare to relaxing to some live performances and turning up with your squad right after. What's better than going to a show and being unapologetic about how you express yourself? Last Friday, Lavanyai Dieu produced "Soirée 5: WE ARE the Future" at the Bella Luna Restaurant and Milky Way Lounge in Jamaica Plain. The event was hosted by D. Ruff & Twist ID and sponsored by One Gig, a private label boutique located in downtown Boston. The cover charge was $15 but free entry for those who donated a bag of children's clothes, shoes and toys for people in Haiti.
The Soirée was an electric, influential and dynamic gathering of interesting people with natural passions. The Soirée was meant to socially and personally uplift entrepreneurs, originators, creators and anyone with an artistic attitude of a get-up-and-go and a follow-your-dreams mentality.
The event showcased some of Boston's most talented poets as well as musical performances by local artists. Among the spoken word artists and musicians featured were Treva Holmes, Tihara O'brien, Anson rap$, Black Venus, Noetic J, Hal Halper, Claire Lyrics, Josh Nixon, Jill Briggs, Dubsee, Bechamel Remi, Rebecca Zama, J Cinatra, Philiosopher king, Dizzdagod, Anson rap$ and Crslyrc.
"Soirée 5: WE ARE the Future" was a fitting title for the event, prompting performer Hal Halper to say, "We are the future because we have endless opportunities and the responsibility to challenge the status quo, question those in power who create and enforce our laws, and stand up for what we are compassionate about, without the same fears or prejudices that once crippled our chances to speak out."
No matter where you find yourself, self-expression events are a great way to bring communities together and generate creativity.
Meet Stephanie Millions — our new In the Mix reporter. Millions is passionate about media and works on many platforms. She anchors a morning motivational talk show called "Elevation with Stephanie Millions" on the Gag Order Network, and also hosts "The Secret Spot" every Monday night from 10 p.m. to 2 a.m. on WERS 88.9 FM. For more information, please visit www.stephaniemillions.com or email stephanie.millions@gmail.com to have her cover your event. Follow Stephanie on Twitter @StephMillions.