March 21st, 2018
Pressley fighting discipline disparities
Releases policy recs. for Boston schools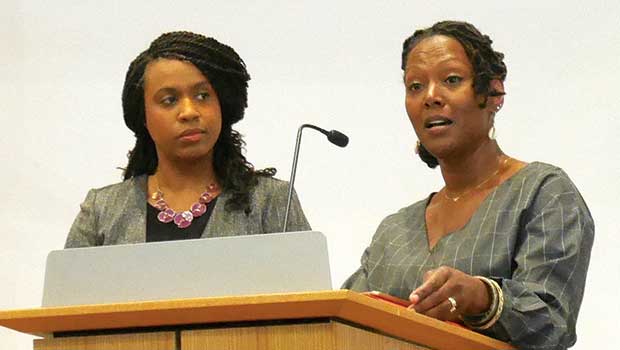 Dr. Monique Morris speaks at a press conference announcing draft policy recommendations for preventing school discipline disparities for girls of color, as At-Large City Councilor Ayanna Pressley looks on.
At-Large City Councilor Ayanna Pressley, together with the National Black Women's Justice Institute (NBWJI), presented a set of draft policy recommendations last week for Boston schools that address issues of disproportionate discipline actions toward girls of color and focus on creating safe and supportive learning environments.
"We have known for some time that black and Latino boys were disproportionately being disciplined and expelled," said Pressley, "and that policies appearing racially neutral were having disparate impact. What many didn't know is that girls were also being pushed out, and along the same race lines."
At a press conference March 12 at the Bruce C. Bolling Municipal Building, Pressley was joined by Dr. Monique Morris, co-founder of NBWJI and author of the book "Pushout: The Criminalization of Black Girls in Schools." Morris has worked with Pressley over the past year on "Project Focus: Girls of Color," a series of focus groups and hearings that culminated in the recommendations report.
"The nation is grappling with the issue of disproportionate representation of girls of color along the discipline continuum, and the differential academic and life outcomes that result from overreliance on exclusionary discipline," Morris said.
She added, "I applaud the Boston community for being part of the effort to examine this issue more rigorously … so we can begin to interrupt these cycles in our young people's lives."
Nationally, in the 2013-14 school year, black girls were seven times more likely than white girls to receive one or more out-of school-suspensions, four times more likely to be arrested in school, and over two-and-half times more likely to be referred to law enforcement, according to data compiled by NBWJI. In the northeast region, including Massachusetts and spanning New England to Pennsylvania, out-of-school suspensions were six times higher for black girls than whites, black girls were four times more likely to be arrested, and three times more likely to be referred to law enforcement.
And the discipline is not necessarily in response to unsafe or violent behavior: "Across the nation and in Boston, girls of color have described experiencing discipline in response to their expressions, presentation and/or identity, instead of in response to an actual threat to school safety," states the Project Focus report introduction.
Indeed, part of the impetus for her local examination of girls' experiences in school, Pressley told the Banner, was the case in early 2017 of black and biracial students at Mystic Valley Charter School in Malden receiving detentions and suspensions for violating the school's prohibition on hair extensions. The state attorney general deemed the dress code discriminatory, and the school has since dropped its bans on hair extensions, hair coloring and hair more than 2 inches in thickness or height.
In summer 2017, Pressley and Morris organized a series of focus groups that involved 100 girls of color from all types of area schools. The focus groups were followed by two "listening-only" public hearings: in one, girls described their school experiences and their ideas for solutions, while elected and school officials listened without injecting feedback or commentary. In the other hearing, school leaders responded to what they'd heard, describing and suggesting policies and practices that could reduce discipline disparities.
Knowledge and insights from these local sessions, along with NBWJI's data, informed the set of 10 draft policy recommendations released this week.
While some of the recommendations are large and long-term — such as diversifying teaching, administrative and school leadership staff and investing in additional school counselors and therapists — others are low-cost, practical ideas such as keeping a supply of appropriate clothing and hair wear on hand to lend to students if they arrive in violation of a dress code, allowing the problem to be corrected quickly with no need to leave the building.
"No child should be losing classroom time because of dress code violations, especially for things not in their control," Pressley said. "Maybe the family couldn't launder the uniform in time."
She noted also the intertwined issue of body-shaming. "A uniform looks very different on different bodies, so girls were being disciplined for how they're shaped."
Trauma response
A key recommendation that underlies many of the others is to provide training in trauma-informed responses and strategies, as well as in cultural competency — measures that could pave the way for more empathetic responses by school staff and security officers when encountering undesired student behavior.
"There are many young people who are acting out and behaving in ways that are in response to trauma and early childhood victimization," said Morris. "Responses to that will be very different than if we think these behaviors are because they are bad kids."
The Project Focus recommendations are intended for the entire spectrum of Boston-area elementary and secondary schools, including charter, METCO, and religious and other private schools as well as Boston Public Schools.
At the release event, two charter school leaders spoke about what their schools are doing to examine and reduce disipline disparities and provide respect and safety to students. Charter schools have been found in a number of studies to have substantially higher rates of suspensions than other public schools.
Boston Prep Charter School Executive Director Sharon Liszanckie said her school has added a full-time psychologist and social worker to the staff and partnered with outside organizations for professional development on trauma-informed care. She highlighted a mentoring program, suggested by students, in which upper-grade student mentors pair up with middle school mentees. Boston Prep's website indicates that 95 percent of its students are African American or Latino, and 48 percent are female.
Shannah Varón, executive director of Boston Collegiate Charter School, whose student body is 53 percent white, 26 percent black and 16 percent Latino, said her school dramatically reduced its number of suspensions between the 2015-16 and 2016-17 school years. She cited some of the school's positive practices, including working to balance its uniform requirement with freedom for individual self-expression, and increasing the number of mental health professionals on staff.
"It's about knowing our kids, looking them in the eye when they walk in the door," she said, "and making sure that if something seems not quite right that they have an adult they can talk to."
Varón expressed appreciation for Project Focus' collaborative process and for its delivery of recommendations to schools not as a "gotcha," but as a means of support.
The Boston Public Schools did not have a representative at the press conference, but Pressley said the district has been "a willing and active partner" in the entire process of Project Focus and has expressed interest in the recommendations, particularly around dress code.
"Some of these reforms will require buy-in from the School Committee," she noted at the press conference. "So BPS schools don't have complete autonomy on changes. [But] on those things they can do on their own, we will be working intentionally with them."
As for next steps, Pressley said her working group is now formulating a time frame for periodic check-ins. Individual schools will have different timelines for taking action, she said, but eventually there will be a public reporting of progress made on implementing the recommendations.
Get in touch
For more information on the recommendations and actions, contact Research Director Lynese Wallace in Pressley's office at (617) 635-4217.