September 5th, 2018
Coco Verde Vegan stirs up Dominican cuisine scene
JP catering company part of a Latino vegan revolution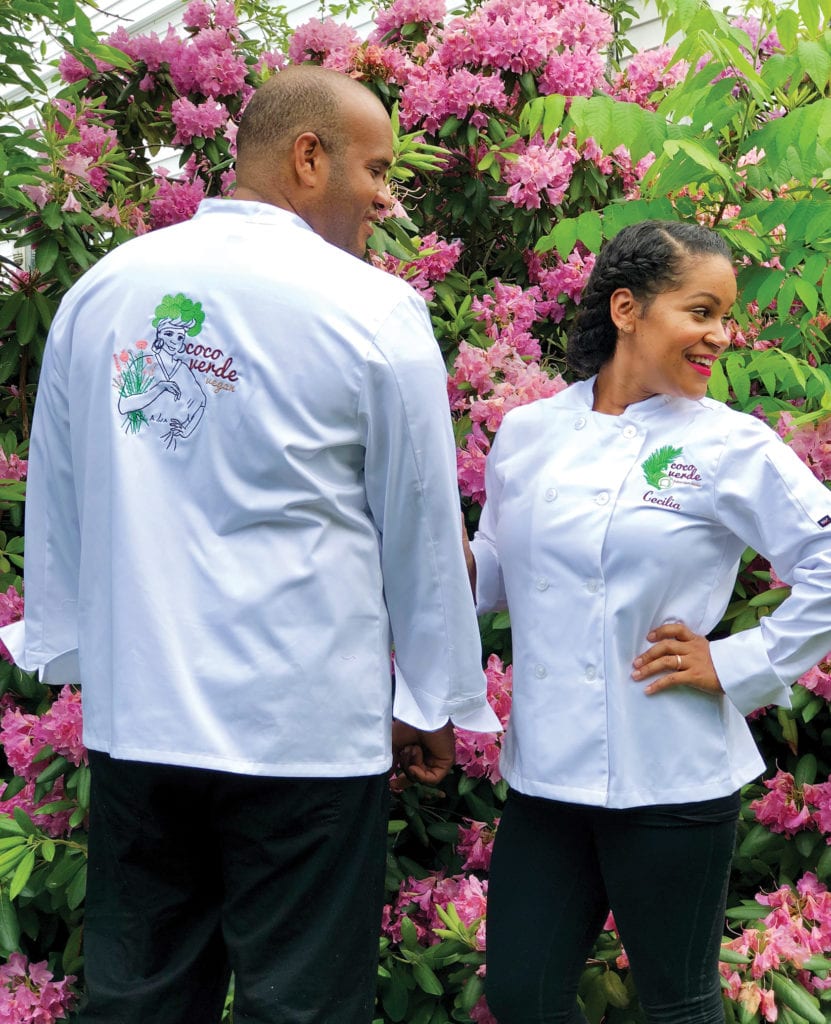 Cecilia Flores and Ivannoe Rodriguez launched their vegan catering company, Coco Verde Vegan, in June and are hoping to challenge perceptions of meatless Dominican food. Photo: Coco Verde Vegan
Cecilia Flores and Ivannoe Rodriguez, owners of Jamaica Plain-based Dominican catering company Coco Verde Vegan, are not trying to convert carnivores, but they are proving that plant-based
Latino cooking is possible, and delicious.
"We want to show that there's not one way to be vegan and that veganism can be approachable, exciting and familiar," said Flores, an ultra marathon trainer who switched to a plant-based diet in
2017 after the birth of her daughter Ivanna, but missed the home-cooked comfort foods of her Dominican upbringing in Medford.
On the Web
For more information on Coco Verde Vegan, visit:
"We didn't want taking a step into a plant-based diet to be a step away from our culture," said Flores, who is also currently studying for her Ph.D. in Social Policy.
Although food has always played a significant role in the couple's relationship, with Flores meeting chef Rodriguez at a family barbecue, it wasn't until they weaned Ivanna onto solid foods that they began to scrutinize what they ate, and ultimately made a lifestyle decision to cut meat and dairy from their diets.
"I loved the way I felt, I loved the energy, it made my workouts so much easier," said Flores. "It was the proof I needed and the example I wanted to set for my daughter."
Dissatisfied with the sparse selection of vegan Dominican recipes available online, they "decided to step up to the plate," said Flores, and launch their own cooking blog. They quickly found that
there was a lot of interest in their cuisine and the couple received catering requests almost immediately, prompting them to turn their online creation into a business, which launched this June.
From scratch
So far, Coco Verde Vegan has been largely self-funded by the couple, but they have received financial advice and business support from local groups, including the First Baptist Church in Jamaica
Plain and Baraka Community Wellness, a nonprofit dedicated to improving the health of at-risk communities. The couple also meets weekly with a representative from the Jamaica Plain Neighborhood Development Corporation (JPNDC), which works to provide economic opportunity to Jamaica Plain residents. JPNDC is supporting Flores and Rodriguez in a range of areas, from acquiring loans to growing their business.
What started as a personal journey flourished into a thriving business, which the couple is looking to grow through public events and social media. Their five-year plan includes ambitions to open a community restaurant, but in the meantime, they will be attending several events this fall, including the Boston Veg Food Fest Oct. 20—21, where they will give cooking demonstrations, something Flores said they are asked to do quite regularly.
But their food was not always so well-received. Flores said her mother and aunt, whom she grew up cooking with and learned a lot of her skills from, were apprehensive when she told then she was cooking meatless Dominican meals.
"In most cultures food is central, and meat is very central to Dominican cooking, so there's this perception that if you're not eating meat you're not really eating at all," said Flores, who has tailored Dominican favorites, like "asopao de mariscos," a traditional seafood stew, to convince skeptical family members and customers that vegan Latino food can be authentic and just as tasty as traditional recipes.
Food for change
The new business owners also want to show that veganism isn't just a lifestyle for white women, as portrayed in mainstream media, said Flores. "This is a different take on veganism," she said. "It's important to recognize there are a lot of [vegans] and we all look different."
While infusing traditional flavors into plant-based food and exposing people to this cuisine is their main goal, Flores and Rodriguez also want to use Coco Verde Vegan to encourage people to adopt healthier eating habits. Raised in public housing in a family with a history of diabetes and poor health, Flores is well aware of the consequences that an unhealthy lifestyle can have on heart health and overall wellbeing, she told the Banner. She hopes to prove that "you don't have to sacrifice flavor for health."
Ultimately, for Flores and her family, eating, cooking and growing a business based on Latino vegan food is a way to "honor my roots and also live a healthier lifestyle." Coco Verde Vegan brings that opportunity to all.