February 14th, 2019
Angela Davis speaks about gender violence, racism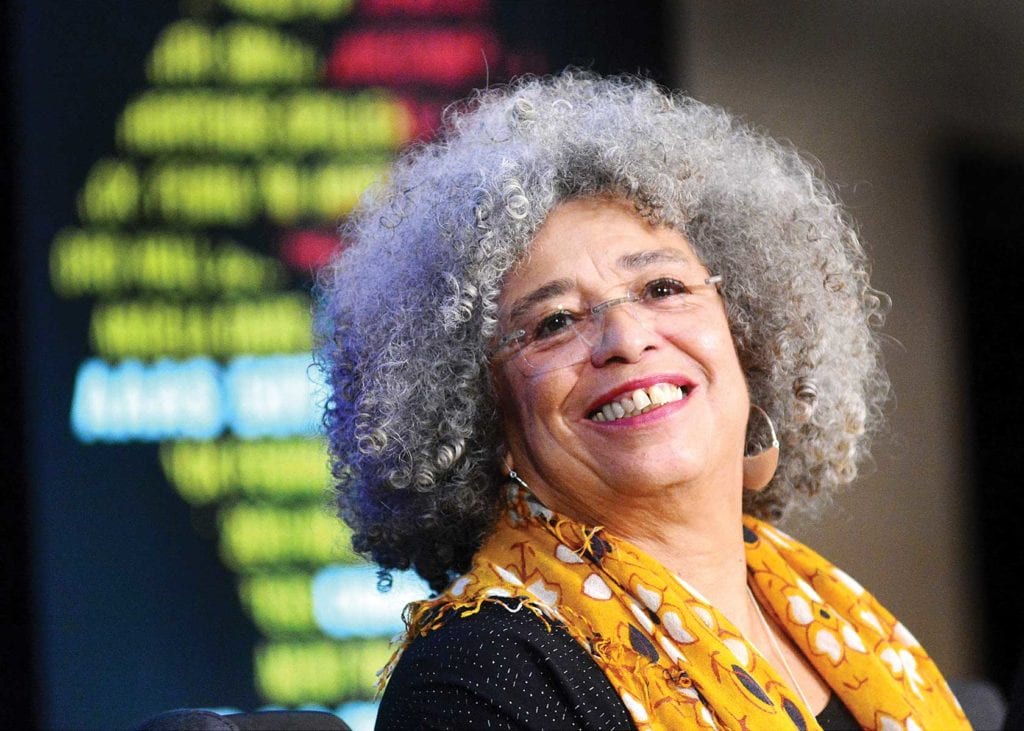 Angela Davis during an appearance last week at Brandeis University. PHOTO: DON WEST/FOTOGRAFIKS
Angela Davis, the renowned civil rights activist, feminist and academic, spoke Saturday night to a sold-out auditorium of Boston University students, former students and faculty.
Her talk, "Violence Against Women and Its Ongoing Challenge to Racism," focused on understanding the interconnectivity of different types of violence because, she said, "We learn a great deal from the struggles of the most marginalized people."
In her lecture, Davis said that we live in a society that is violence-saturated, where violence has a suggested permanence to it.
"If someone were to ask me about the type of world I want to see, I could probably summarize my desires for race, gender, economic justice and freedom," said Davis, "by saying that I want a world without violence."
But even though various forms of violence have a suggested singularity and permanence, they are all interconnected, and all "deeply connected to the violence of the state," in Davis' view. Examining our prisons, Israel and violence against black women are the best ways of moving toward a world without violence by looking at their connections to the state.
After her speech, Davis answered questions that were pre-selected from the audience, many from students seeking advice about leading activist lives.
"You have to learn that you can't always see immediate results," said Davis. "Do the work that allows you to be an ancestor. So that in the future you will be spiritually present."
Casey Guillard, a BU senior, spoke of what Davis meant to her and fellow students.
"Civil rights, to feminism, to women's health care, all the different things that she stood for, being part of the Black Panthers," said Guillard. "Angela Davis is just a huge inspiration, for everyone."
Davis responded directly to the many inspired students in the audience in one of her closing remarks.
"It's always young people who are the leaders of revolution," said Davis. "And those of us who are older have to accept that."
Davis found herself at the center of controversy in January when the Birmingham Civil Rights Institute backtracked from its decision to give Davis its Fred Shuttlesworth Human Rights Award, reportedly after pressure from prominent Jewish activists opposed to Davis' support for Palestinian rights. Davis supports the global Boycott, Divestment and Sanctions movement, which seeks to apply pressure to the state of Israel to recognize the rights of Palestinians.
The civil rights group's move prompted angry responses from Birmingham Mayor Randall Woodfin and other prominent activists. The Civil Rights Institute later reversed its decision, but Davis, who is headed to Birmingham Saturday to speak before another group, hasn't said whether she'll accept the award.
Opening for Davis, BU Professor of Sociology Saida Grundy, whose upcoming book examines the lives of students at Morehouse College, spoke of her own experiences of violence as a black woman, experiences that motivated her own academic career.
Grundy is the granddaughter of Rev. Luke Beard, who was pastor of 16th Street Baptist Church at the time of the racially-motivated Birmingham bombings that killed four black girls in 1963.
She spoke of the impact of proximity to violence on her life.
"As the granddaughter of that city, I know all too well, from every holiday gathering of my family and friends, how seconds of a racist attack marked the minds of an entire generation," said Grundy. "When you are a daughter of violence, you don't arrive at your politics intellectually, but rather you seek out intellectualism to make sense of what you already know to be true."
When Grundy introduced Davis, she applauded the diversity of Davis' activism and scholarship, her "decades of engagement" supporting black feminist thought, political philosophy and practice, divestment from apartheid occupation, queer liberation, prison abolition and more.
"She has broken bread with the heads of state and been incarcerated," said Grundy. "In centuries to come, may her life be studied as the thread that weaves together the liberation movements of an era."