February 28th, 2019
Boston Latin Gospel Choirs hosts first gospel festival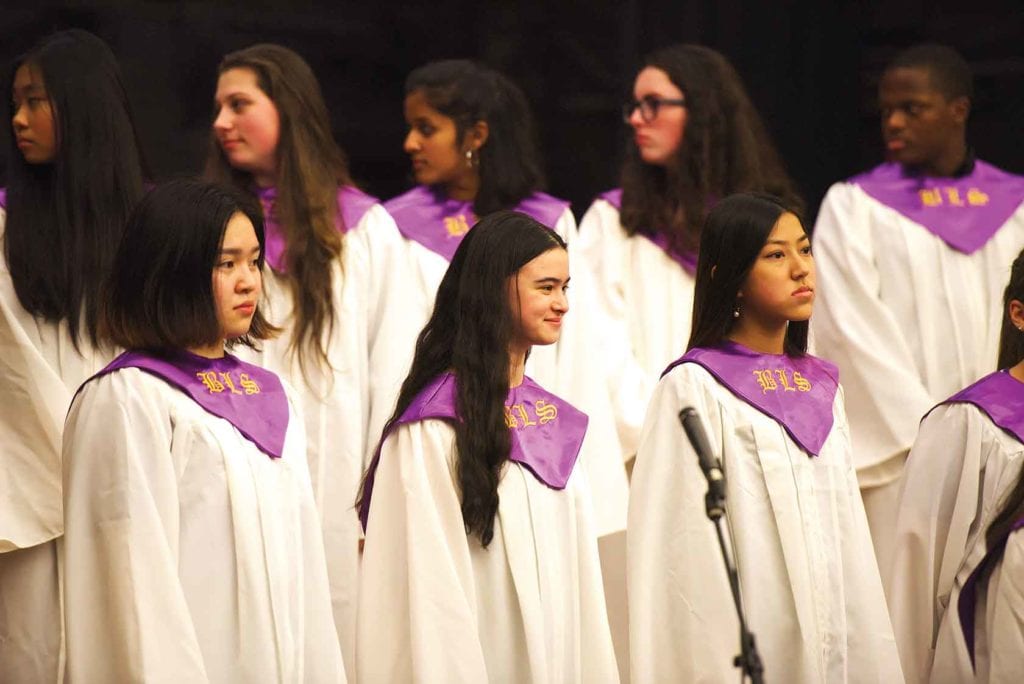 Boston Latin Gospel Choir. PHOTO: LEE-DANIEL TRAN
On Friday and Saturday, March 1 and 2, the Boston Latin School Gospel Choir will host its first-ever Gospel Fest on the BLS campus. The two-day festival will feature workshops for the student performers and clinics by guest director Bishop Chantel Wright and will culminate in an open-to-the-public performance on Saturday evening.
Kristen George, director of the BLS Gospel Choir says, "Gospel music is a genre that I've noticed doesn't get as much publicity as it once did. And because it's a genre of music that's very historically important to the African American community, I think it's important to try to keep that genre alive."
George was inspired to put the festival together after attending similar events at other schools, most notably the Ithaca College Gospel Festival, where she met Wright. The BLS festival will operate similarly, except the concert will feature a number of choir groups rather than just one, including the Gospel Fest Mass Choir, for which auditions were open to all Boston Public Schools students.
One misconception George would like to dispel is that Gospel necessitates religious affiliation. She hopes this concert will allow audience members to focus on the historical and musical value of gospel, rather than any religious subject matter. "I feel there's some education that needs to be done around that," says George. "Gospel music is so historically important. You don't cut Handel's "Messiah" out of concerts. Gospel music is important in the same way."
Students of all different backgrounds are attracted to the BLS Gospel Choir and George says she often gets comments from audience members about the diversity of the group. "People were really surprised to see that we had kids in the choir who were atheist and kids who were Muslim and kids who were Hindu and kids who were Jewish — it is a very diverse group in terms of faith and nationality," says George. "The music transcends all of those things."
BLS senior Perrin Price has been a member of the choir since eighth grade. She was recently appointed as student director, a position George created for her because of her outstanding skill set. Price will be moving on to Harvard University next year to study in the engineering and transportation space, but she's excited for the opportunity to participate in the festival in her last term at BLS. "I really appreciate how much emotion goes into it. What's so cool about gospel is how moving it can be to so many people on so many levels," she says.
The songs for the concert were selected partially by Wright and include "For Every Mountain," "Battle of Jericho" and "Kumbaya" among others. Price says, "We're doing a really cool version of 'Lift Every Voice and Sing,' which is the Black national anthem, so I'm really excited about that."
General admission for the concert is free and reserved seats are $20 apiece. Any donations contributed will go to the choir.