January 24th, 2020
Renée Lacy: She lost it all to stroke
But got back much more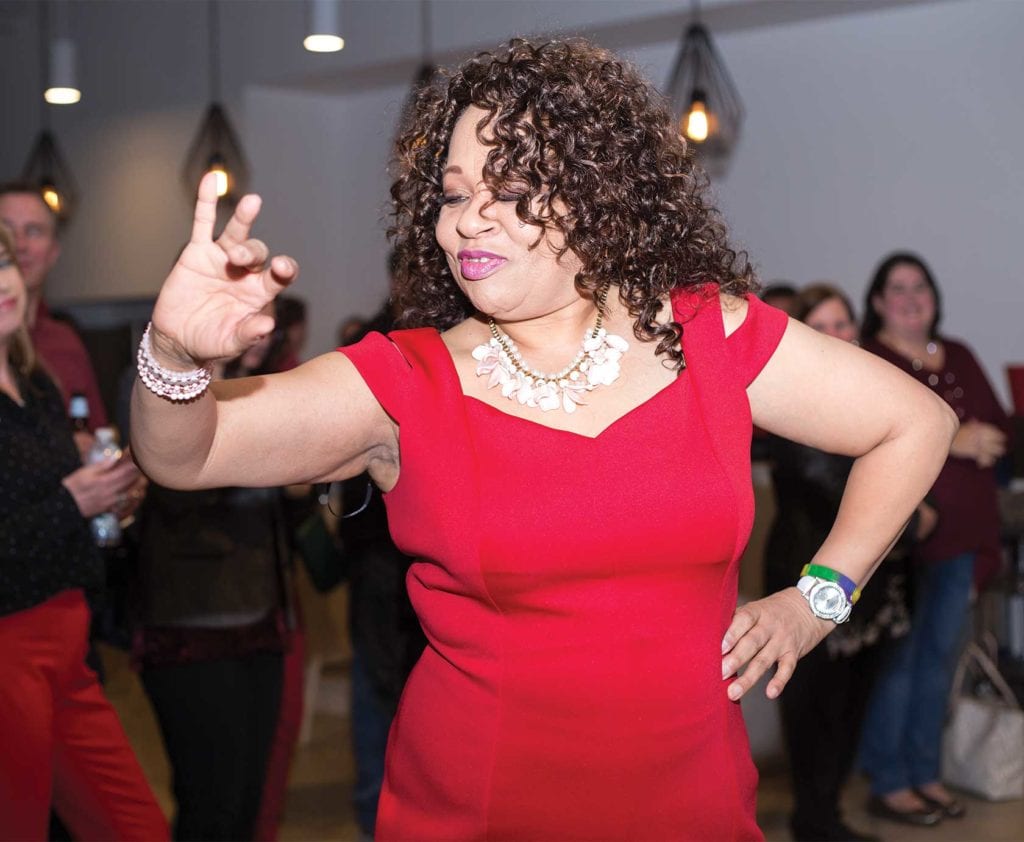 Renée Lacy dances at a Go Red for Women Fashion Show Fundraiser in Richmond, Virgina. PHOTO: ERIN EDGERTON
Renée Lacy, 66, knows her way down the runway. She started modeling as a teenager. Now she helps others strut their stuff. Lacy developed Cameo Models Internationale, a full-service modeling agency and professional model coaching center.
But a few years ago she thought her career may have come to an abrupt end. "Your whole world changes in a split second," she said.
It was Christmas Eve. Lacy was almost finished shopping for Christmas dinner. She was driving to one last store, but never made it home that night.
She said it suddenly felt like a baseball had hit her on the left side of her head. She lost her eyesight. "My right side was gone," she explained. She had trouble speaking.
Lacy did not know it at the time, but she had just suffered a stroke.
Her passenger took over the driving and rushed her to the closest emergency room. Lacy was eventually diagnosed with an ischemic stroke, or blockage to an artery feeding the brain.
She said that she has high blood pressure and takes two medications to control the disease. But she admits that stress was probably a factor as well. She tried to do too much by herself, and created a serious domino effect. Excessive stress can increase blood pressure, which in turn is the leading cause of stroke.
Thank you, Bruno Mars
Lacy underwent rehabilitation at another hospital closer to her family. Rehabilitation is pivotal to stroke recovery. Speech therapy helped regain her skill as a public speaker. She credits her physical therapist for her improvement in strength and function.
During one session, Lacy unintentionally developed her own physical therapy routine. Music was being piped in over the speaker. The song playing was "Uptown Funk" by Bruno Mars. "I dropped my cane and started dancing," she said. "I had forgotten how much I loved music. It made me functional again." Lacy literally danced her way to better health.
Actually, her technique is more common than she realized. Dance therapy movement is the use of dance to promote the emotional and motor function of the body.
Lacy had another stroke a few years later, which she again attributed to high blood pressure and stress. Fortunately, it was a transient ischemic attack (TIA), often referred to as a mini-stroke. Her symptoms were mild and short-lived, and required only a brief hospital stay.
Recurrent strokes are not uncommon, and make up almost 25 percent of the 800,000 strokes that occur each year in the U.S., according to the American Heart Association.
A new beginning
Lacy has made lifestyle changes to prevent another stroke. She works out regularly in the gym. She follows a healthy diet of fruits and veggies, fish and chicken. Water is now her favorite beverage. In addition to her modeling and coaching company, she is a Grand Ambassador for the American Heart Association.
She changed her behavioral lifestyle as well. "I try to create a peaceful atmosphere for myself," she said. She manages that with prayer and music.
And of course she's still dancing.