February 7th, 2020
"Bright Half Life" brings authentic romance to the stage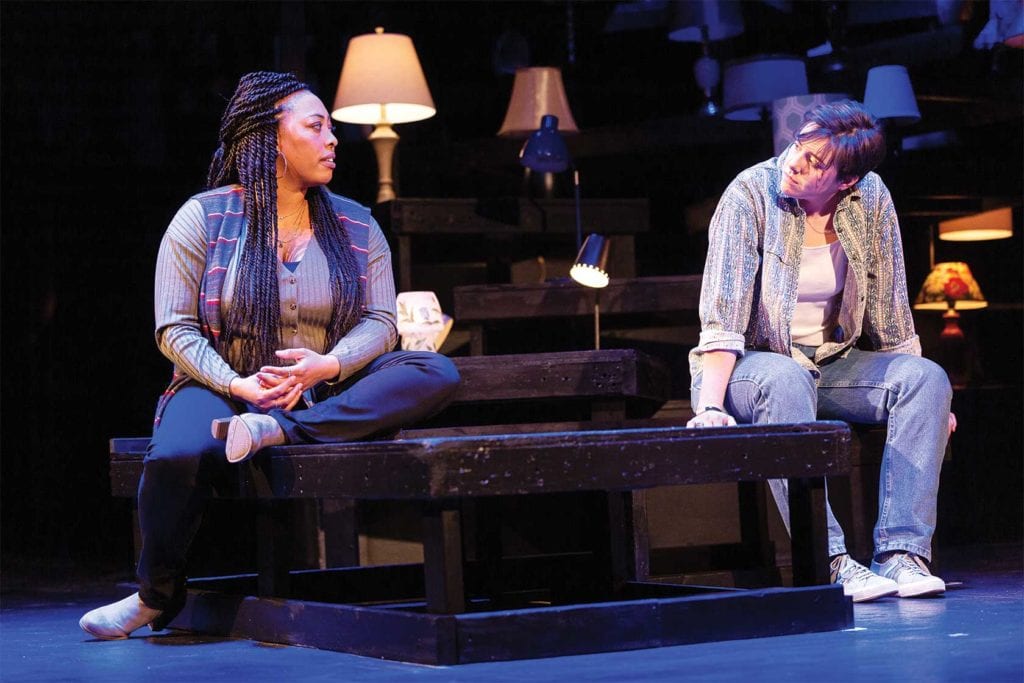 Lyndsay Allyn Cox and Kelly Chick in "Bright Half Life." PHOTO: NILE SCOTT STUDIOS
Lyndsay Allyn Cox and Kelly Chick glide about the stage in Actors' Shakespeare Project's "Bright Half Life" with the ease and grace of a fully trained ballet corps. Slipping through time frames and memories, the two talented actors illustrate the highs and lows, joys and tragedy of a 40-year relationship, in just over an hour.
Running through Feb. 16 at the Plaza Theatre at the Boston Center for the Arts, the production portrays a biracial, lesbian relationship with tenderness and honesty. What's perhaps most important about this portrayal is that the characters and their lives are utterly unexceptional. They search for new jobs, they discuss the differences in their racial experiences, they go on dates and they lose family members.
On the web
Learn more at:
The characters Vicky and Erica don't have to be exceptional to be portrayed on stage as queer characters. Their story is just as valid in its normality. In fact, it's that relatability that makes the show so powerful for all audiences. The emotions and experiences at the core of the show are true to all human experience: love, joy, sorrow and fear. It's a testament to Cox and Chick that they're able to make such a long and sincere love affair so heart-wrenching in just 65 minutes.
"Bright Half Life" is perhaps a perfect love story for our contemporary world. It's not neat and brimming with Hallmark romance. It's complicated and ever-changing. The love depicted isn't cookie-cutter, it's better. It's real.
The set for the Actors' Shakespeare Project production is minimal but for a field of lamps placed on the ledges of the tiered seating at one end of the theater. As the moods and emotions change on stage, so do the lights dim and brighten.
Playwright Tanya Barfield has crafted these stories expertly. The performance is not on a linear timeline but jumps between decades and relationship statuses, often coming back to the same few moments, the same few lines, like a nostalgic broken record.
Like our own memories, it's sometimes the smallest moments that loom the largest. In "Bright Half Life" the couple's first date on a Ferris wheel, which terrified Erica, gets just as much, if not more, stage time than when Vicky convinces her to go skydiving. At the end of something, it's not always the big moments that we remember, but the little pieces of light and dark along the way.