March 11th, 2020
Helina Metaferia harpoons white-driven art world in solo show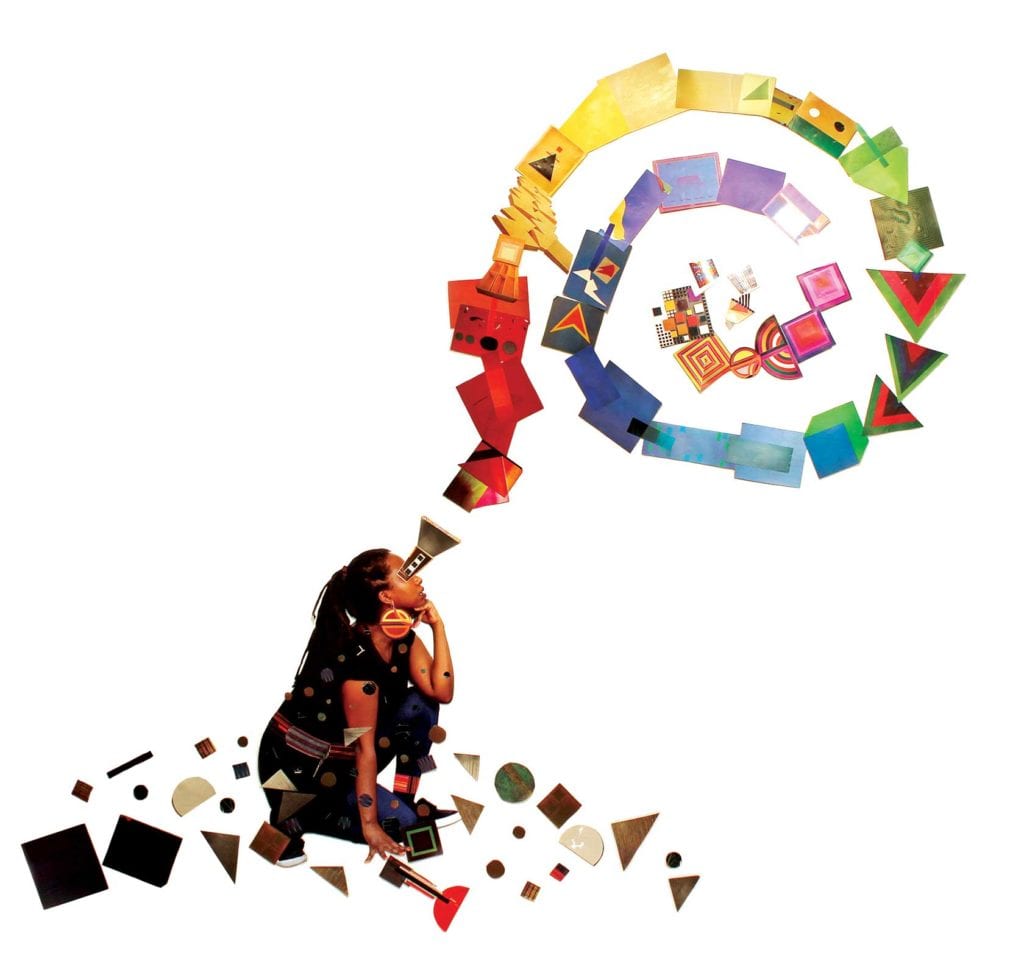 Helina Metaferia, "My Oracle Has Red / My Rhythm Has Blues." PHOTO: CELINA COLBY
Interdisciplinary artist Helina Metaferia's debut solo exhibition in Boston is a showstopper. Running at Northeastern's 360 Gallery through April 5, "Against a Sharp White Background" features a selection of work highlighting Metaferia's primary artistic objective: asserting the black body into sites of systematic oppression and owning those spaces as a person of color.
The title of the show is inspired by a quote from Zora Neal Hurston that reads, "I feel most colored when I am thrown against a sharp white background." In her performance work, some of which is screened in the gallery, Metaferia has illustrated that white background in institutional spaces, gentrified neighborhoods and sites of historic racial violence. But here in the gallery, a space colloquially referred to as "the white cube," the message is doubly powerful. Metaferia is placing herself in the white driven art world and rightfully claiming a space of her own.
Metaferia went to graduate school at the School of the Museum of Fine Arts at the same time the Boston Globe's Spotlight racism series reported Boston to be extremely unwelcoming to people of color. By coming back to the city for this show, Boston becomes another white background she's standing against.
"My Oracle Has Red / My Rhythm Has Blues," an installation collaged on the gallery wall, features a photograph of Metaferia from one of her performances surrounded by a rainbow of collaged images from art magazines and catalogues. The piece was born from artistic research. As Metaferia looked through art periodicals from the 1980s (the decade she was born) she noticed there were next to no women or people of color represented. When artists of color were talked about, it was usually under the derogatory umbrella of "primitivism," an artistic category that often relegates anything non-Western into a vague conglomerate of
less skilled work.
On the web
Learn more at:
By swirling these images around her own black body, Metaferia stands for all the artists that have been overlooked by the Western art world, taking back their creative power and shining a light on the inequity of the industry.
In a single channel video projection of her performance piece "The Mother," Metaferia lays in front of Robert Motherwell's "Elegy for Reconciliation" at the National Gallery of Art, moving her body in the same lyrical forms that are expressed in the piece. The performance is aesthetically beautiful, but what's just as important as Metaferia and her movements is the way museumgoers are interacting with her. And mostly, they're not. Even in a space theoretically designed for reflection and analysis, most museumgoers walk by Metaferia without even looking at her. But she's there, existing and taking up space, a powerful statement in itself.
"Against a Sharp White Background" is a formidable and aesthetically stunning exhibition. It not only highlights racial inequity in society, but specifically in the art world and in museum and gallery settings, an issue that's often overlooked and is essential to expose.