June 17th, 2020
Black restaurateurs seek relief
Black Hospitality Coalition to advocate on behalf of black restaurateurs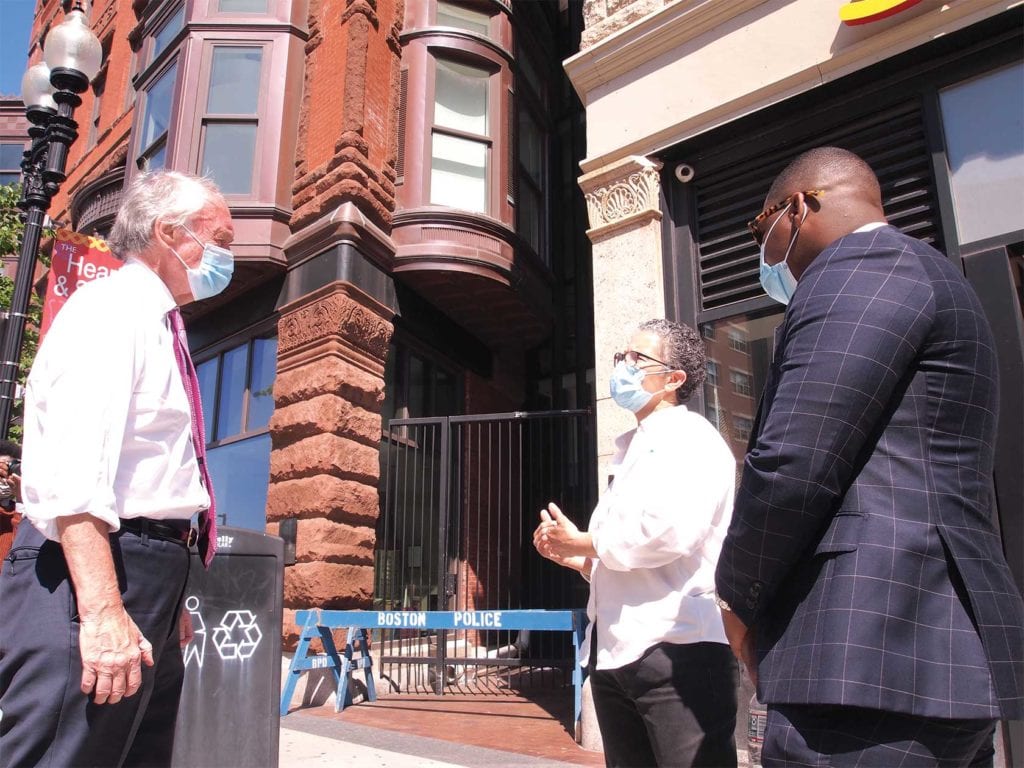 U.S. Sen. Ed Markey chats with Soleil owner Cheryl Straughter while police advisor William Broderick looks on. BANNER PHOTO
Business was humming in March for Soleil restaurant in Nubian Square. Owner Cheryl Straughter had brought in a contractor to build out a bar, catering business was up, and the Bolling Building, where her eatery is located, provided a steady stream of lunch customers.
When stay-at-home orders hit, in-person dining, catering and special events ground to a halt.
"We lost three streams of revenue," Straughter said. "Takeout has never been a large stream for us. We had an 80% reduction in income. We're facing a lot of challenges."
On Sunday, Straughter stood on the sidewalk outside Soleil speaking with U.S. Sen. Ed Markey, who toured black restaurants and bars that afternoon. Markey, who will soon debate the next federal relief package on the floor of the Senate, said he wants to hear from business owners in order to be well-informed as he goes to bat for them.
Straughter was joined in Nubian Square by District 7 Tavern owner Royal Smith, and the two walked to Darryl's Corner Bar where they met with owner Nia Grace and Wally's Café owner Frank Poindexter.
The four recently founded the Black Hospitality Coalition to advocate on behalf of black restaurateurs. Each spoke to Markey about their difficulties keeping their businesses alive during the pandemic.
Markey told the entrepreneurs that their perspectives would help inform his approach to advocating for the next economic stimulus package.
"I'm on the Small Business Committee," he said. "I'm using this meeting to learn what we can do for business."
Grace said Darryl's Corner Bar had gone from 10 full-time employees and 34 part-time workers down to just six employees. The restaurant is now open for takeout Friday, Saturday and Sunday, although, like Straughter, she's also reopening outdoor table service, in accordance with state guidelines.
"It's all weather-dependent," she said. "It won't work on a rainy day, a cloudy day, a cold day like today."
Darryl's has seating for 12-15 diners at tables partitioned off from the rest of the sidewalk along Northampton Street. In Nubian Square, Straughter is seeking permission from the city to open outdoor seating on the sidewalk along Washington Street.
"I can only put a couple of tables here," she said, standing in front of Soleil.
"You could put a few more tables here," Markey said, gesturing to the vacant parking spaces in front of Soleil.
"That's in the application," Straughter said.
Even with outdoor seating, neither Straughter nor Grace will be able to make up for the much larger interior seating spaces their restaurants normally rely on, nor for the catering business that Straughter has lost.
Both owners struggled with decisions about personnel. Laying off full- and part-time employees was a difficult choice, Grace said. She weighed whether her employees would be better off on unemployment or dealing with the uncertainty of the pandemic.
"Will they come back?" she questioned. "Can they come back for eight to 12 hours a week?
"You're caught in a cycle," Markey said. "You're weighing your choices. Your employees are weighing their choices."
Meanwhile, Grace said, she has bills mounting, including a bill for the alcohol delivered shortly before businesses in Massachusetts were ordered closed.
"We're sitting on alcohol we're not able to sell and a bill we're not able to pay," she said.
Grace also said she's sitting on a meals tax bill. Meanwhile, the six workers still on the payroll are working long hours, three in the kitchen and three in the front end of the restaurant.
"In the front end, you're doing everything from being a manager to being a bus boy," she said.
For Smith, whose District 7 Tavern on Warren Street functions mainly as a bar, there are fewer options.
"We're all paying our rent," Smith told Markey. "Building owners get breaks from banks. Nobody's giving us a break."
Smith applied for the federal Payroll Protection Program but was unable to secure the funding for his relatively new business.
"Funding is an issue," he said. "I don't have the banking relationship I need to make things happen."
"With your permission, I'd like to help you navigate the process with Willie Broderick," Markey offered.
Broderick, a pastor at the 12th Baptist Church and a policy advisor to Markey, told Smith he would follow up with him.
"We'll figure it out," he said.
Markey said he expects the negotiations around the next economic relief package to be contentious.
"I think we're going to have the most epic battle in my career," he said. "Mitch McConnell and Trump don't want to provide help at the level at which businesses need it. In the last round, Republicans didn't want to put in $75 billion for health care provides or the $10 billion for testing."
Markey said a second surge in COVID-19 cases could shift the conversation in Congress.
"The politics is going to start to shift because the rise in cases is primarily in red states," he said. "That's why I'm hopeful we can have a package that rises to the magnitude of the problem."