August 5th, 2020
Have sax, will travel: Joshua Redman talks jazz, pandemic, Boston then and now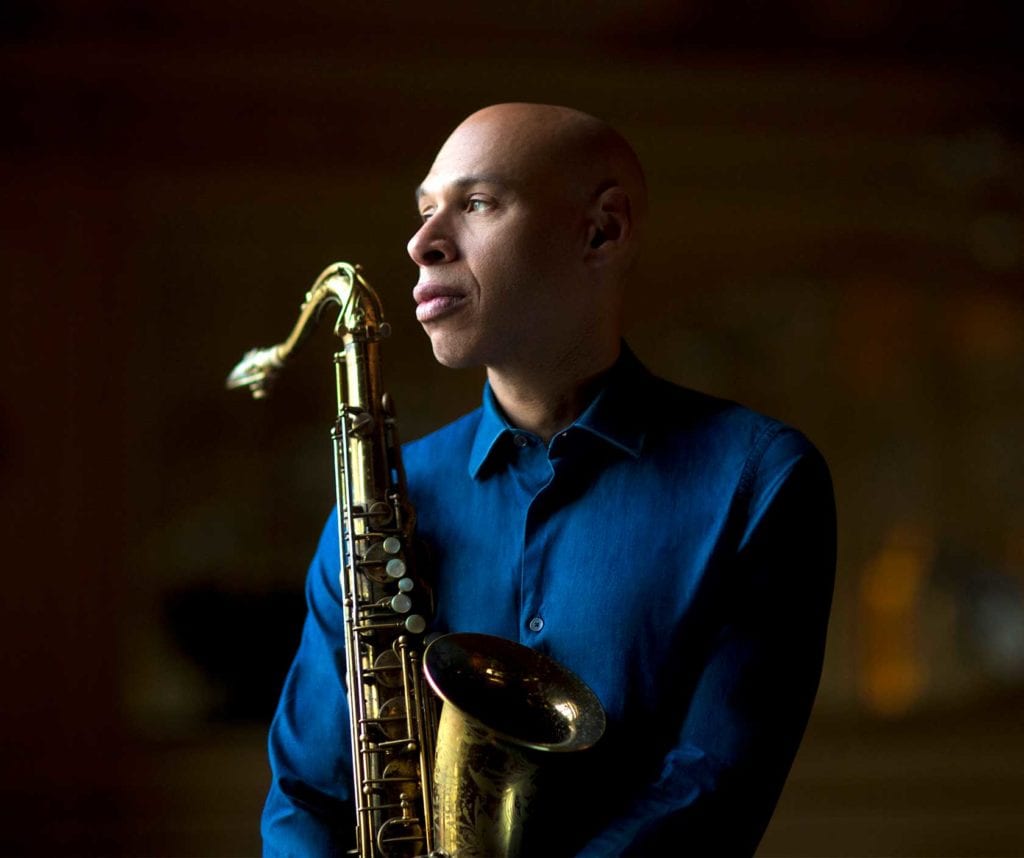 Joshua Redman. PHOTO: Heidi Zeiger
Joshua Redman, Harvard class of 1991, has played his saxophone just about everywhere, and with leading lights in music from Stevie Wonder to Herbie Hancock. He can be heard live on a long-ago tour with The Rolling Stones, playing "Waiting on a Friend." Nominated for nine Grammy Awards, the musician and composer nowadays makes his home in San Francisco, where he has joined the San Francisco Conservatory of Music as artistic director of roots, jazz, and American music. Redman recently got his original quartet from 1994 back together to record "RoundAgain," a CD released on July 10. The quartet features Redman on saxophone, Brad Mehldau on piano, Christian McBride on bass, and Brian Blade on drums. The Banner caught up with Redman by phone in late July.
Your new CD, "RoundAgain," came out on July 10. This is the ensemble from about 25 years ago. A lot has changed, you're not looking back, so what's different this time around?
Well, we're all a little bit older. My joints are creaking! I was 25 in the original iteration; we were all relatively young men. These are still three of my favorite musicians on the planet and of my generation. And so now that we've all got some years under our belts, I'd like to think that, at least personally, having lived a life and had a lot of emotional, intellectual and spiritual experiences, I'm a deeper, better musician. Back then there was a certain innocence, as well as hubris, and now I feel there's more subtlety, a wider range of learning and ideas with which to improvise.
Three songs on the new CD are your compositions. Can you say a little about one of those songs?
A lot of songs went into the band this time that I knew they would play brilliantly. And unlike the first time we played as a quartet, it's not just my leadership. Take, "Silly Little Love Song." It's the simplest of songs. I wrote it in the late '90s and it never found a home until it was recorded with this band. Each of the musicians in this quartet has – has always had — sophistication. All of them are supremely melodical and lyrical. They have always embraced many sensibilities of music, including pop. This song found its home.
Among your claims to fame is that you were accepted to Yale Law School and graduated from Harvard. So in addition to being a musician, you have a remarkable academic history. What of your intellectual background finds its way into your music?
Everything finds its way into my music, rarely in a direct line. I had good study habits: I can focus for long periods and have rigor and discipline. When I was a student, music was an escape from that. Music, especially jazz, is of the moment. But it also involves learning a very complex language, and I began practicing seriously in my 30s, and I do practice a lot now. I do have an analytical mind, a critical aspect of how I do things, being self-critical, second-guessing myself. But the improvisation in jazz is really of the moment and unscripted. When that takes place, I can't stop to think.
In an interview you did with the great jazz saxophonist Sonny Rollins, you said to him that you admire his "sense of flow and narrative as an improviser." What do you mean by narrative in music?
I mean a sense of continuity: A beginning, middle and an end. Having each idea related to the idea before and after. A sense of moment-to-moment connection: A structure to the improvisation.
In the same interview, you ask Rollins if he considers himself a political musician. Do you consider yourself one?
I'm somebody who my whole life has had political and moral convictions. While I've never felt that it would be natural to make an explicit statement in my music, I think that my work is honest, creative, and expressive. Jazz is a music of individual expression. You have your own ideas and experiences in solos, but that means nothing outside of the context of what everyone else in the band is doing. To be a jazz musician, you have to be a great listener. I have musical conversations with other musicians whose backgrounds and beliefs are different than mine. That means empathy, listening to one another, acknowledgement and support of one another.
With venues shuttered and audiences missing, while no one knows what's next, what do you think happens next in live music?
Now is not the time for live music. Certainly not in the United States. The band was supposed to be on the road this summer in Europe. Things will come back there before the U.S. The reality is that the virus is here, it's not going anywhere. The leadership here has done a horrible job at the national level. There's been a lack of leadership. Then, too, when venues eventually do reopen, what will people's attitudes be about coming out to hear live music? How comfortable will people be going into indoor places close together? How will it work? Look, I hope it happens soon, I just don't know when.
You were a student at Harvard from 1987 to 1991. You've been back, you perform a lot in Boston — has anything changed that you've observed about the city?
I appreciate it a lot more since I left. It was a culture shock coming here from the West Coast, from Berkeley, and a meteorological shock, too. I found Boston to be a cold city, not just climate either. I'm not saying that Berkeley was a cultural or racial paradise, but when I came to Boston, I did feel ethnic and class tensions, and it was a segregated city. It was the first time I was called the "N" word, that was my during my second week. So when it came time to leave, I didn't shed any tears. But now I feel a connection to the city: It's an amazing intellectual, cultural and musical community. Outside of New York and the Bay Area, it's one of the strongest audiences in the country. And my agent, management and a lot of my friends are in Boston. I've changed my attitude about it.