August 5th, 2020
Honor the legacy of John Lewis: vote!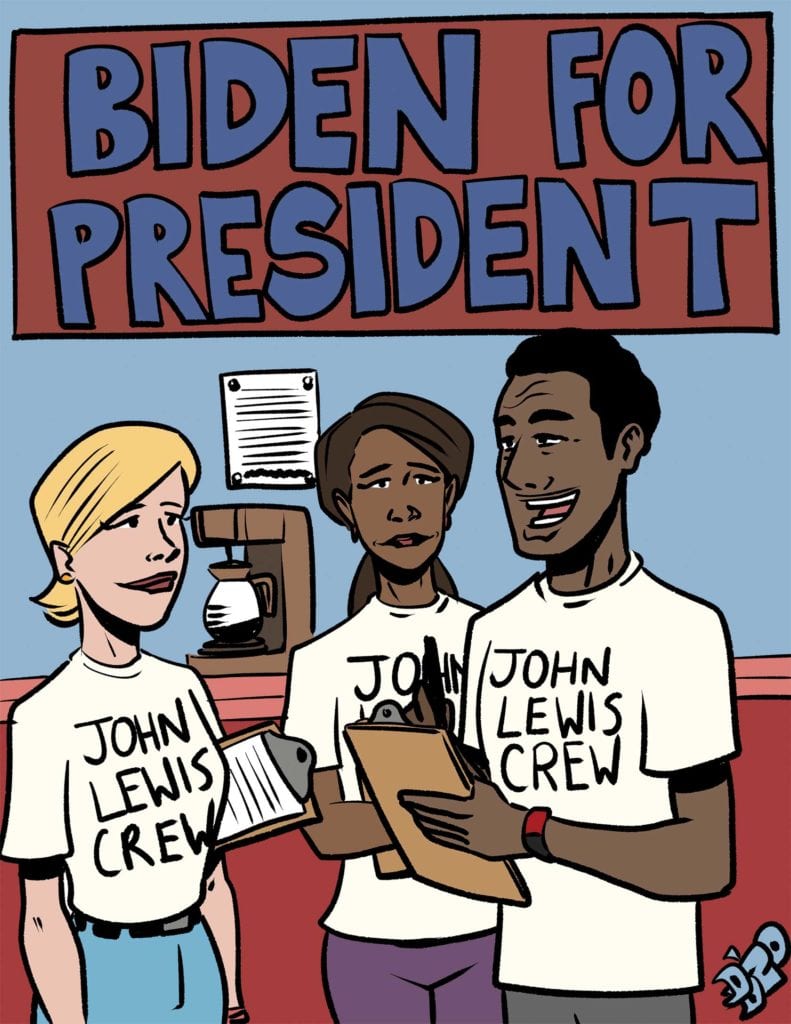 "We're going to ring bells and knock on doors to get everyone out to vote!"
At an early age, John Lewis became aware that voting was the bedrock of democracy. The promise of equality stated in the nation's Declaration of Independence was to be achieved at the polls. Then John Lewis met Dr. Martin Luther King, who assured him that political gains could be attained morally only through adherence to nonviolence. From that moment on, John Lewis became committed to the goal of voting rights that are acquired with nonviolent tactics.
Lewis never wavered from these principles throughout the course of this life. At the age of 23 he became chairman of the Student Nonviolent Coordinating Committee (SNCC) and he was the youngest speaker in the March on Washington in 1963 when Martin Luther King delivered his famous "I Have a Dream" speech. From then on, Lewis confronted racial discrimination and the denial of voting rights whenever the opportunity arose, regardless of the personal injury and imprisonment he had to suffer.
In his op-ed piece that was published in the New York Times on July 30, the day of his funeral, Lewis said, "Democracy is not a state. It is an act, and each generation must do its part to help build what we called the Beloved Community, a nation and world society at peace with itself."
Lewis further claimed that "ordinary people with extraordinary vision can redeem the soul of America by getting in what I call good trouble, necessary trouble." By this he meant that you must oppose "unchecked, unrestrained violence and government-sanctioned terror." He claimed that "each of us has a moral obligation to stand up, speak up and speak out. When you see something that is not right, you must say something. You must do something."
After years of effort as a civil rights activist, Lewis was elected to Congress from Atlanta in 1986. As Speaker Nancy Pelosi stated, John Lewis was "a Titan of the Civil Rights Movement and the conscience of the Congress." Blacks have been fighting for equality since they first arrived in North America. John Lewis has been on the front lines of the Civil Rights Movement from 1954-1968. Lewis survived numerous confrontations and he took those risks to assure an opportunity of victory for those who were disenfranchised.
Within a few months of his death, those whose interests Lewis so bravely served can vote en masse out of respect for a life so nobly spent. Three former presidents and numerous other celebrities attended Lewis' funeral in Atlanta on July 30. The rest of us must be present on Election Day, Nov. 3.
The fundamental issue is whether we choose to allow Donald Trump to remain in the White House. Trump won in 2016 because Blacks failed to turn out in the numbers we had four years earlier. In 2012, the Black vote was estimated at 66.6% of those registered. In 2016, that percentage dropped to 59.6%. The loss of 7 points was enough to create four years of misery for many Americans.
Now it's time for Blacks to regain their self-respect and honor the memory of John Lewis. He did so much for everyone, and all he wants is for everyone to exercise on Nov. 3 the voting rights he worked so vigorously to secure.