December 8th, 2021
Wu launches minority purchasing project
Sets aside contracting dollars for minority firms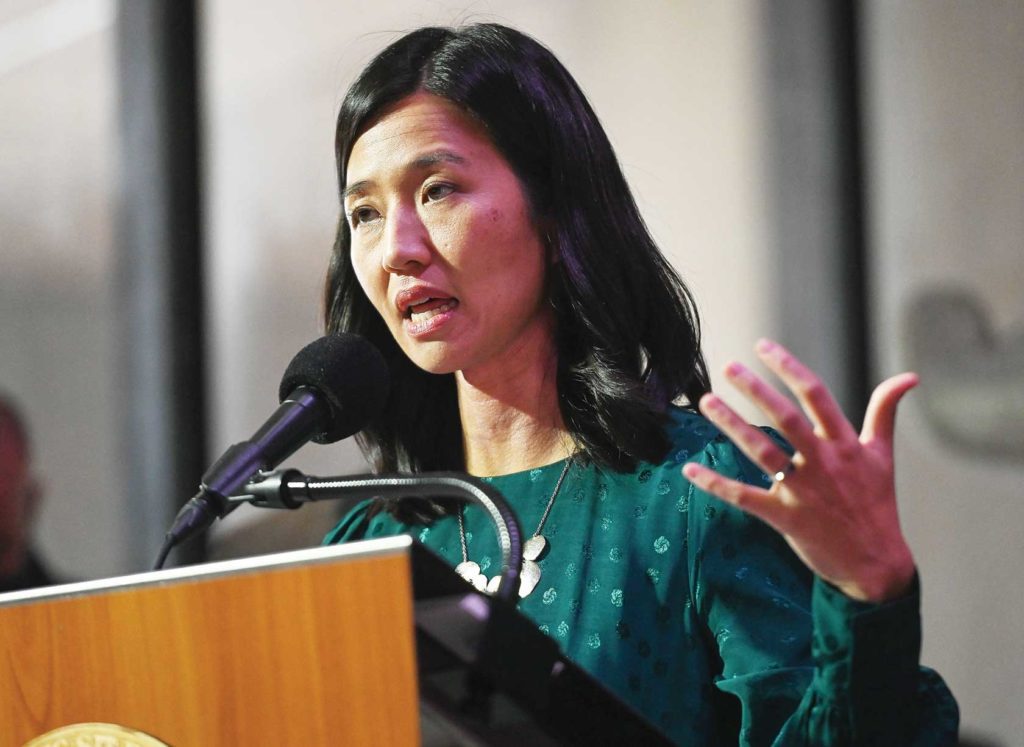 Michelle Wu. PHOTO: Jeremiah Robinson, Mayor's Office
After a study released last year looking at racial disparities in city contracts showed steep inequalities between dollars going to Black, Latinx and white bidders, Mayor Michelle Wu is now looking to close the gaps with a new pilot program being pitched to the City Council.
In 2020, the City of Boston released a disparity study that showed while the majority of residents are people of color, Black-owned firms received just 0.4% of the city's $2.1 billion in contracting dollars, Latino-owned firms received 0.8% and Asian-owned firms 1.1%. This study followed a 2017 NAACP Boston Branch report card on the administration of Mayor Martin Walsh, which found that few of the city's contracting dollars went to businesses owned by Blacks, Latinos and Asians.
Upon taking office last month, Mayor Wu made addressing the stark imbalance a priority of her first days on the job, filing an order with the City Council to create an "equity in procurement pilot program" for 2022. This order will allow the city of Boston to designate up to six city contracts for procurement from minority and women-owned businesses.
Known as a sheltered market program, the order is part of a larger initiative to "direct city resources to local, diverse businesses that are vital to expanding wealth-building opportunities and supporting their capacity to compete for city contracts," a press release announcing the pilot reads.
"Building on the work in the City Hall to ensure that our public dollars are going to build wealth in our communities and close the racial wealth gap, I am excited to file for a pilot program to create specific opportunities for Black and Brown businesses to contract with the city," said Wu. "As we recover from the pandemic, the city of Boston will use every dollar to make our city a place for everyone."
Former acting Mayor Kim Janey, during her time in office, also contributed to the goal of closing procurement gaps with her $2 million supplier diversity plan, the $750,000 Contracting Opportunity Fund created last spring, and most recently an act helping connect local food businesses with city contracts.
"This pilot program marks an important opportunity for the city to align its spending with addressing historical disparities," Janey said. "This will increase the number of city contracts going to women-owned and minority-owned businesses, while also building a more equitable economy for all of our residents."
The pilot would be a close collaboration among the City Council, the Administration & Finance Cabinet, the Equity & Inclusion Cabinet, and the new Economic Opportunity and Inclusion Cabinet.
Segun Idowu, incoming chief of economic opportunity and inclusion and former director of the Black Economic Council of Massachusetts (BECMA), already has experience advocating on the topic of procurement inequality. He told the Banner when Janey's opportunity fund was unveiled that "The city needs to take much bolder concrete steps toward addressing this problem head-on and ensuring that five years from now, the next disparity study doesn't show that all we did was get to whole numbers but they're in the single digits."
Of Wu's program, he said, "The sheltered market pilot program is an important milestone in the city's effort to connect diverse suppliers to wealth-building opportunities and redress historic inequities in the procurement process."
BECMA has released additional supplier diversity recommendations for the city, including investing $5 million in technical assistance for minority business enterprises and making minority business procurement a requirement for economic incentives. Other advocates like the NAACP have called for independent oversight of the city's contracting process.
It is unclear what additional steps might be taken in the future to continue addressing the contract inequality.
"The request for authorization of this sheltered market program gives us another powerful tool to improve equity in city contracting," said Justin Sterritt, the city's CFO and chief procurement officer. "The challenges surrounding procurement are complex and require using every tool available to help close persistent gaps and inequities in city contracting. This sheltered market program builds on a series of reforms and council orders to improve the procurement process and increase opportunity for new and diverse vendors. Under Mayor Wu's leadership, we will use every tool at our disposal, and the addition of this sheltered market program is a major step."
A hearing on the pilot will be held this week by the Council's Committee on Government Relations.