November 30th, 2022
Schooling the system: Prof. Kelli Morgan is dismantling racist practices in art museums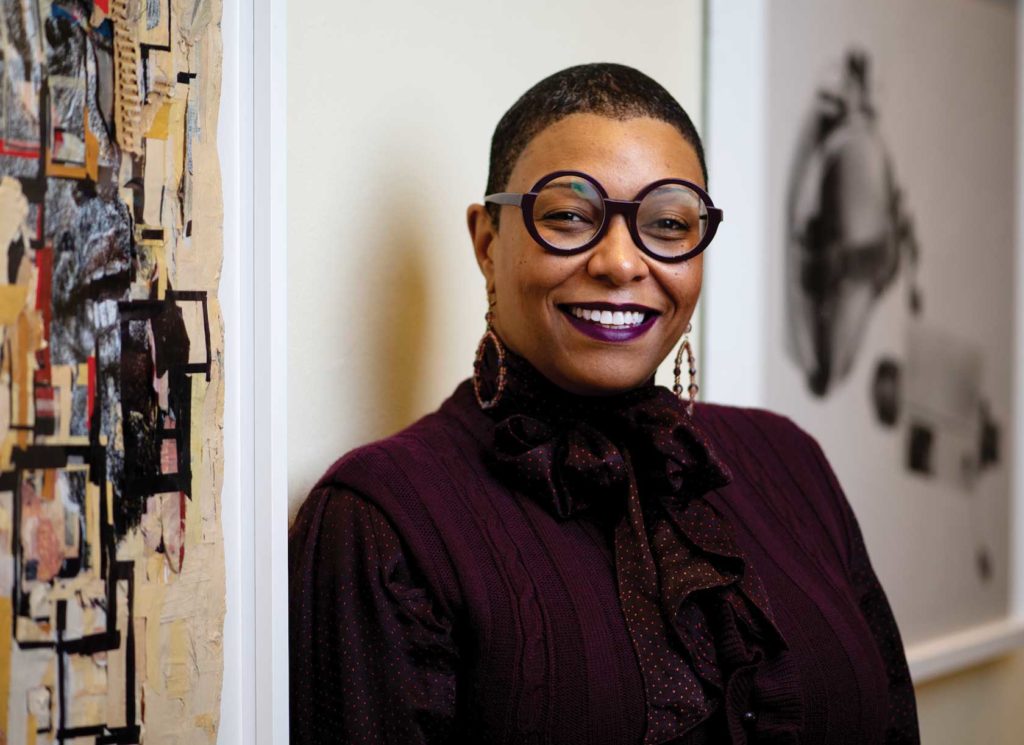 Kelli Morgan PHOTO: ALONSO NICHOLS, TUFTS UNIVERSITY
Kelli Morgan is on a mission to break down exclusionary and racist practices in cultural institutions once and for all. Morgan is a professor of the practice and the inaugural director of curatorial studies at Tufts University, where she's pioneering the Anti-Racist Curatorial Practice certificate program.
Morgan, who holds a Ph.D. in Afro-American studies, has spent decades working within — and in spite of — systems designed to keep cultural institutions like art museums white-centric and inaccessible. After a particularly blatant racist tenure in Indianapolis, Morgan decided to create a program that first would help BIPOC museum professionals survive in this world and second begin overhauling the internal structures of these organizations.
"I wanted to create a program that actually delineated why that chasm is there, how it got there in the first place and why it's getting wider," says Morgan. "And subsequently offer strategies of how to navigate the reality that that chasm presents or produces for museum professionals."
The Anti-Racist Curatorial Practice certificate program is a five-course program primarily targeting museum professionals and educators. In it, Morgan teaches the history of cultural systems to illustrate why there is so much exclusion present in these organizations and gives students real-life tools to handle the inequities.
"One thing I tell my students all the time is, you have to build community. Art museums are very siloed. A lot of times communication is purposefully convoluted or cut off in between departments," says Morgan. "You really have to be an active agent in your own community-building, both inside the institution and outside the institution."
Communication sounds like a simple tool, but transparency can make a significant difference in exposing issues within institutions in order to tackle them. Diversity and inclusion have become buzzwords in cultural institutions in the past few years, but Morgan says much more is required to achieve a truly equitable space. Museums will need to diversify their boards of directors, not just in terms of race, but in class and gender also. Accessibility and community need to be considered at every turn, including in collections, actively welcoming in historically marginalized groups.
"You can't just hire the Black curator and collect the Black artist and expect white supremacy exclusionary structures to just go away," says Morgan. "Until art museums in particular move away from that fiduciary model, it's never going to be completely equitable."
The Tufts certificate program began this fall, and Morgan taught one officially enrolled student this semester. She had many more listening in. "The issue is, it's too expensive," she says. "If you want a program like this to succeed, you need to fund students. Particularly from underrepresented backgrounds."
Until funding can be raised to sponsor students, or a new pricing structure is worked out with Tufts, Morgan is encouraging museum professionals and others interested to unofficially audit the course for free. Students auditing won't receive a certificate from the university, but Morgan will write a letter on official letterhead indicating their completion of the course.
Morgan has had to navigate discrepancies, like high pricing on a course about inclusivity, constantly throughout her career. The desire to keep up with the trend of diversity and create a program around it is there, but the programs are not always funded or supported the way they need to be to be truly effective.
Despite the challenges, Morgan feels positive about the future of the program. A course like this could grow into a larger graduate program and provide important resources to students all over the country.
For now, Morgan hopes it brings positive change to the professionals she's working with. "I hope students come away from it feeling sure of themselves," she says. "I want them to be able to fight for themselves and fight for what they believe it."
Read more about Morgan and her work at www.thesemuseumstreets.com.