Boston Scenes 9-21-17 Tuskegee Airmen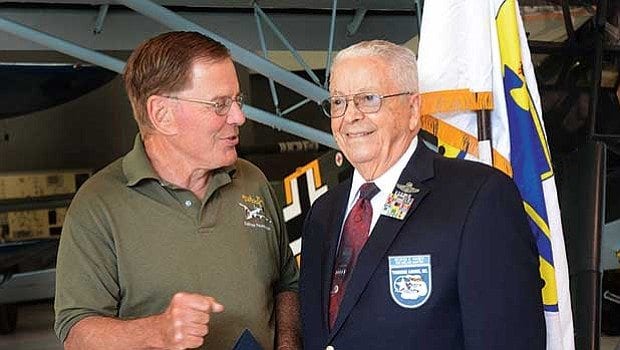 Collings Foundation co-founder, Robert Collings and Lt. Col. George Hardy.
Tuskegee presentations.
Buffalo Soldier re-enacter, Napoleon R. DePina displays Tuskegee Airmen books and artifacts.
Several of the 2017 Student Scholars with from (l to r) Willie Shellman, Bob Collings, Judy Sanford, Frank West Jr.(scholarship), Ben Goff, Astry Pequero Santana (scholarship), Matthew Sylvia (scholarship) and Hon. Francisco Urena, Secretary of Vet. Affairs.
Guests watch as donors take flight on the refurbished WWII PT-17 Stearman Airplane.
The New England Tuskegee Airmen in partnership with the Collings Foundation hosted the Annual Harvey Sanford Scholarship Event. Guests had an opportunity to meet and hear from actual Tuskegee Airmen, experience flights on an authentic PT-17 Stearman airplane and witness the presentation of the 2017 Tuskegee Airmen Scholarship Award to the winners. Pictured are: (l-r) Willie Shellman, Lt. Col. George Hardy, Ret.(Tuskegee Airman), Bob Goff, Robert Collings Sr., Judy Sanford-Harris, Dr. Harold May (Tuskegee Airman), Delbrook Binns (Tuskegee Airman) and Supt. William Gross.

Several hundred people joined the New England Tuskegee Airmen at their Annual Scholarship event held recently at the Collings Foundation Museum in Stow, Massachusetts. The Tuskegee Airmen Scholarship Program encourages high-school seniors to pursue the fields of science, technology, engineering and mathematics (STEM) education with an emphasis in aeronautics. Guests celebrated the 2017 scholarship recipients who received $1,500 or $1,000 scholarships provided by the Tuskegee Airmen. One recipient received the "Harvey Sanford" $5,000 Collings Foundation scholarship and one recipient received the $5,800 Tuskegee Airmen/SAME scholarship. The program was hosted by retired WHDH TV anchor Garry Armstrong, and the afternoon included remarks from Mass Veteran's Services Secretary Francisco Urena, 92-year-young retired Tuskegee Airmen Lt. Col. George Hardy, New England President Willie Shellman, Co-founder of the Collings Foundation Museum Bob Collings, scholarship committee member Dr. Judy Sanford-Harris, and Youth Programs chair Ben Goff. Some guests enjoyed flights on the refurbished WWII PT-17 Stearman that was originally flown by Tuskegee Airmen. Boston Police Supt. William Gross, Deputy Sec. of Transportation Kirk Jackson and his pilot son, were also on hand to celebrate the afternoon. Boston Cadet Squadron CAP kicked off the day with the Posting of Colors. Guests enjoyed plane rides, aviation exhibits, classic car tours and lunch on beautiful grounds.